William Travis
Projects
Colorado Climate Preparedness Project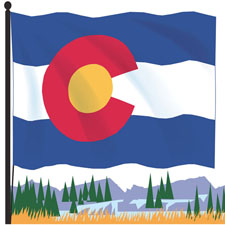 This Western Water Assessment-funded project will address the state of Colorado's progress toward the Governor's goal of preparing the state to adapt to unavoidable climate change. The primary purpose is to set the stage for the next governor to continue to plan for climate variability and change by providing a catalog of climate vulnerabilities and current activities, personnel, products, and projects from Colorado and other entities along with policy relevant, but not prescriptive, suggestions for future actions. Read more ...
Decision Models
The Farm Adapt Model simulates yield, costs, and outputs of a 2,000 acre dryland wheat farm on the U.S. Great Plains, with the goal of modeling the impacts of climate variation, especially extreme events and rapid climate change, and farmer adaptation. Climate change is input via off-sets to the mean of the yield distribution from which the farm draws each year in a 30 year simulation. Read more ...
Drought Vulnerability Indicators Project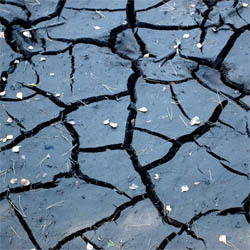 This Western Water Assessment-funded project, "A Drought Impact and Vulnerability Indicator Suite" led by Center director Bill Travis with research assistant Kristin Gangwer, has spent the past year creating a set of indicators for assessing the impacts of drought across different sectors (urban, agricultural, water, recreation), with the goal of developing both research-quality time series that can be normalized and analyzed for trends, and applied indicators that can help managers assess impacts and changing vulnerabilities. Read more ...
Dryness and Desperate Measures: The Implications of Land Tenure on Rocky Mountain Ranchers' Drought Experiences and Behaviors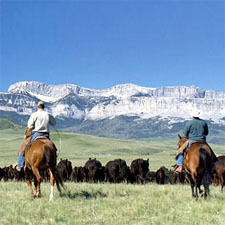 Ranchers in the Rocky Mountain West navigate a complex land-tenure system comprised of deeded, leased, and public grazing lands. Droughts create management challenges for ranchers across their land holdings and impose physical, social, and economic impacts on the ranching system. However, while some studies have explored western ranchers' drought experiences and management strategies, none have looked specifically at the role land tenure plays in their drought responses, and most literature on the relationship between land tenure and drought has thus far focused outside the United States. Read more ...
Extreme Events: Agents of Adaptation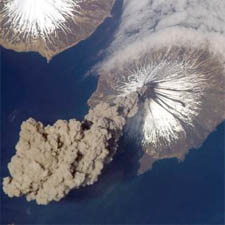 Graduate student Gene Longenecker and Bill Travis are studying the possibility that some responses to natural hazards increase losses in the long run. They are using the latest hazard loss simulation model to test ways in which this effect could be detected. Read more ...
Interactions of Drought and Climate Adaptation (IDCA) for Urban Water
This new project, which was recently funded by the NOAA Sectoral Applications Research Program (SARP), will examine how drought policies interact with both short-term drought and long-term climate change. It will ask whether adjustment today or in the past lead to more resilient systems across climate time scales. The project researchers hypothesize that the more effective a policy becomes in terms of increasing water use efficiency, the more reliant the system becomes on accurate information. Read more ...
A Socioeconomic Impacts and Adaptation Strategies Clearinghouse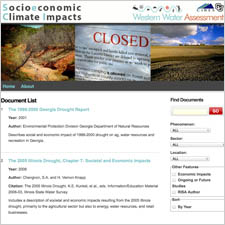 This project entailed the creation of an online, searchable database of research on socioeconomic impacts of climate change in the Intermountain West. It has been populated with over 200 items, including peer- and non-peer-reviewed articles, reports, websites, presentations, etc. addressing the socioeconomic impacts of various climate phenomena. Read more ...