Media Coverage of Climate Change/Global Warming
World Media Coverage
Updated through April 2013
Click graph to enlarge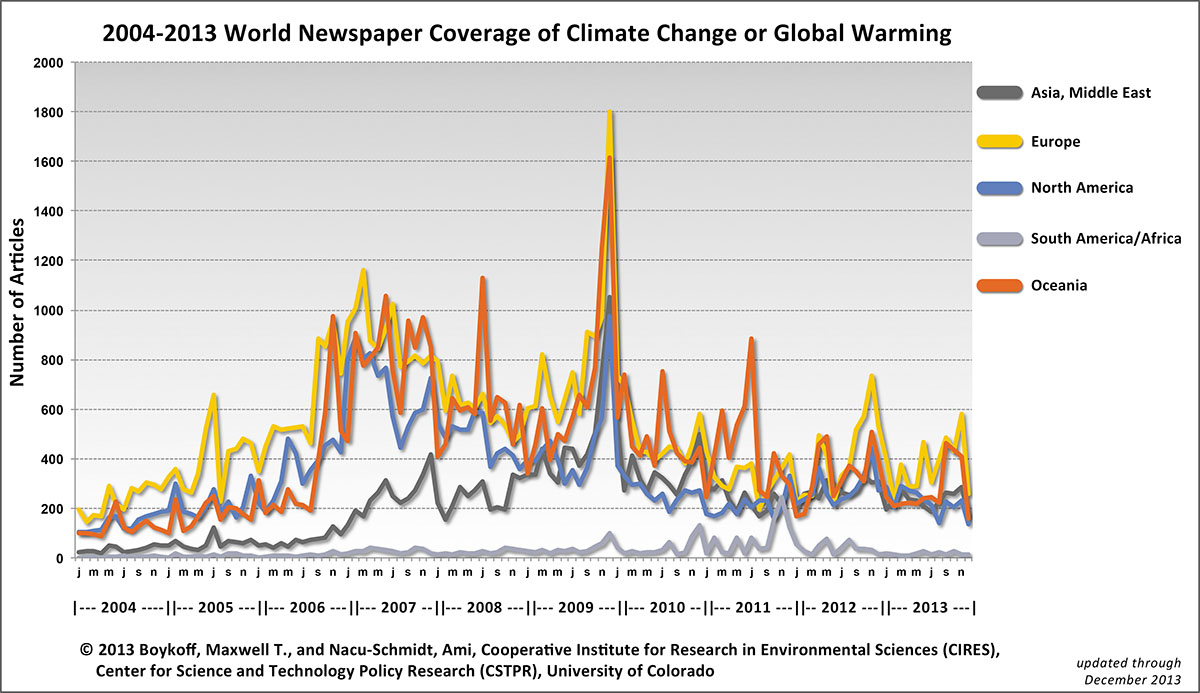 This figure tracks newspaper coverage of climate change or global warming in 50 newspapers across 20 countries and 6 continents.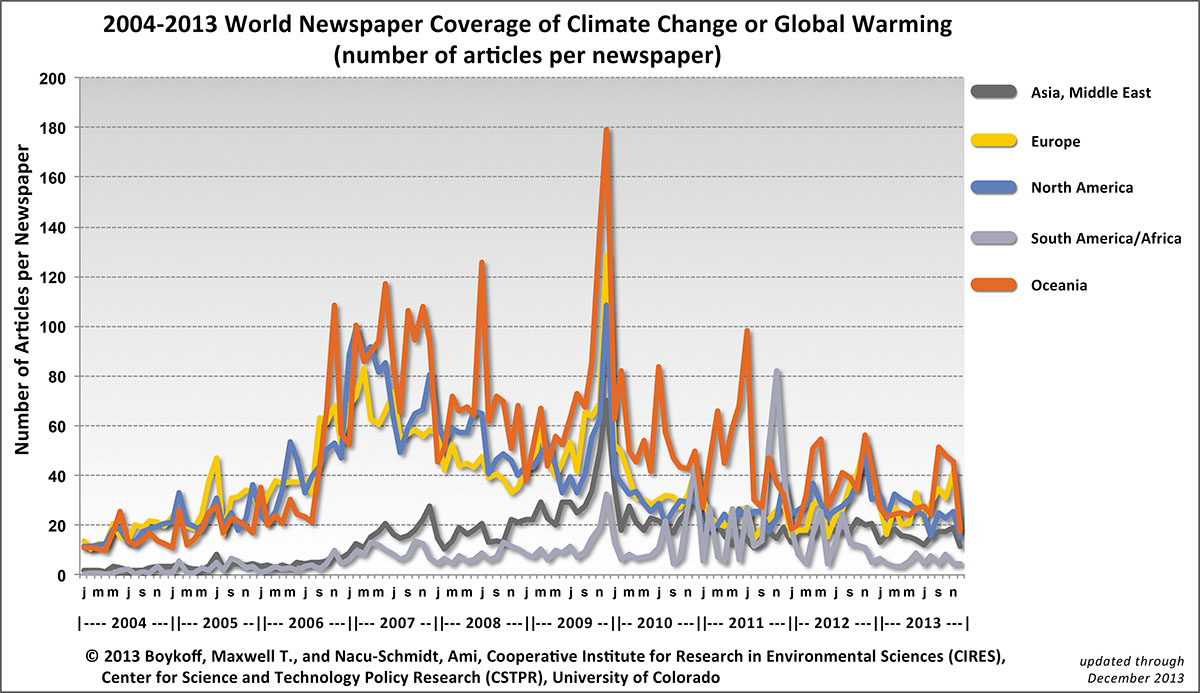 This figure depicts the world data presented above, but by articles per newspaper in each region. This provides a picture of the amount of coverage relative to the other regions, month to month, normalized by showing the number of articles in each source, each month.
Ami Nacu-Schmidt provides figure designs each month. Please email Ami if you'd like to request a high-resolution image of any of these four figures.
Max Boykoff and Maria Mansfield first assembled this figure while conducting research at the University of Oxford, Environmental Change Institute. Boykoff is now here at the University of Colorado-Boulder, and Mansfield is at Exeter University in the UK. They continue to update this figure on a monthly basis as a resource for journalists, researchers, and others who may be interested in tracking these trends. The chart above contains data through the end of the previous month.
This figure was first presented at a side-event at the UN Conference of Parties 14 (COP14) in Poznan, Poland for a panel entitled 'Overcoming the communication deficit: encouraging climate change debate in the Global South'. This 5 December 2008 panel was sponsored by PANOS and the International Institute for Environment and Development (IIED).
Boykoff and Mansfield assembled the data set through three main search engines – Lexis Nexis, Factiva, and ABI/Inform. The Boolean string used was 'climate change OR global warming', and the tracking of month-by-month trends began in January 2004. This starting point was due in part to data availability, where a number of these newspaper archives are only available from that point forward.
Due to sampling, the relative trends across regions are more useful than absolute numbers in the figure. Overall, Boykoff and Mansfield sought to include newspapers that were influential – in circulation and influence on policy/public opinion – as well as geographically diverse.
Newspapers included
The newspapers used in this figure (appearing alphabetically by newspaper) are:
The Age (Australia)
The Australian (Australia)
Business Day (South Africa)
Clarín (Argentina)
the Courier-Mail (Australia)
the Daily Express (and Sunday Express) (United Kingdom)
Daily Mail (Mail on Sunday) (United Kingdom)
the Daily News (United States)
the Daily Telegraph (Australia)
Dominion Post (New Zealand)
Fiji Times (Fiji)
the Financial Mail (South Africa)
Globe and Mail (Canada)
the Guardian (and Observer) (United Kingdom)
The Herald (United Kingdom)
the Hindu (India)
Hindustan Times (India)
the Independent (and Sunday Independent) (United Kingdom)
Indian Express (India)
the Irish Times (Ireland)
Japan Times (Japan)
the Jerusalem Post (Israel)
the Jerusalem Report (Israel)
the Korea Herald (South Korea)
the Korea Times (South Korea)
the Los Angeles Times (United States)
the Mirror (Sunday Mirror) (United Kingdom)
the Moscow News (Russia)
the Nation (Pakistan)
the Nation (Thailand)
National Post (Canada)
the New Straits Times (Malaysia)
the New York Times (United States)
New Zealand Herald (New Zealand)
the Prague Post (Czech Republic)
The Press (New Zealand)
The Scotsman (and Scotland on Sunday) (United Kingdom)
the South China Morning Post (China)
the South Wales Evening Post (United Kingdom)
The Straits Times (Singapore)
The Sun (United Kingdom)
Sydney Morning Herald (Australia)
the Telegraph (and Sunday Telegraph) (United Kingdom)
the Times (and Sunday Times) (United Kingdom)
The Times of India (India)
the Toronto Star (Canada)
USA Today (United States)
the Wall Street Journal (United States)
the Washington Post (United States)
Yomiuri Shimbun (Japan)