Recap: Atlantic SSTs and U.S. Hurricane Damages
October 27th, 2006
Posted by: Roger Pielke, Jr.
We've had an interesting discussion this week on the historical relationship of Atlantic sea surface temperatures and U.S. hurricane damage. I began by asking:
What Does the Historical Relationship of Atlantic Sea Surface Temperature and U.S. Hurricane Damage Portend for the Future?
This post provides a recap of the week's discussion.

I answered the initial question with two perspectives, one that I prepared and one by Munich Re's Eberhard Faust. The conversation was quickly joined by noted hurricane expert Jim Elsner from Florida State, who claimed that his preferred approach definitively resolved this question. Jim and I have had a lengthy exchange this week in the comments, including an effort on my part to replicate part of his analysis, successful in the end, but with a mistake along the way. Thanks to Jim for helping make this replication successful
Even with the lengthy exchange, I remain confused about what Elsner is arguing. He has claimed that the signal of SST couldn't be seen using all historical damage data in a simple regression because of the effects of the North Atlantic Oscillation (NAO). Here is how Jim described it:
Sometimes when the Atlantic is warm and hurricanes are strong, the steering flow keeps them from reaching the US and the steering during the season can be predicted to some degree by preseason values of the NAO; thus a simple regression of annual loss on SST is inadequate for understanding the relationship between loss and SST.
This last phrase – "a simple regression of annual loss on SST is inadequate for understanding the relationship between loss and SST." – seems completely consistent with the focus of my original post in which I asserted that a relationship between SSTs and damage "may materialize in the future, but one cannot use the past to project such a relationship, it must be based on some other considerations." Elsner, it would seem, agreed that "other considerations" (e.g., like the NAO) actually matter for the ability to identify a signal. But Jim would have none of this potential agreement. He later made what appears to be the opposite argument, that the future influence of SST on damages would be identifiable independent of the NAO, explaining that "The correlation between tropical SST and NAO is small." Either the NAO masks or does not mask a SST signal, it cannot be both — hence my confusion.
Lost in these very fine points about very marginal statistical relationships is the fact that Jim and I are pretty close in our views, no matter how aggressively he objects to each point that I make. He writes of his answer to my original question about what the past relationship of SSTs and damage tells us about the future:
If all we know are SST and damages from history, then I would assign a personal probability of 60-70% that over the next 100 years the warm SST years will, on average, have greater annual loss totals compared to the cold SST years.
If I were to modify Jim's statement to more accurately reflect my own perspective, I'd simply change 60-70% to 50%, which in my view is not a particularly big difference. I therefore don't see our views as being particularly far off from one another (though I am sure that Jim would strongly disagree;-).
I'll close by referring the reader back to the first post presented in this discussion, and the two graphs that I presented.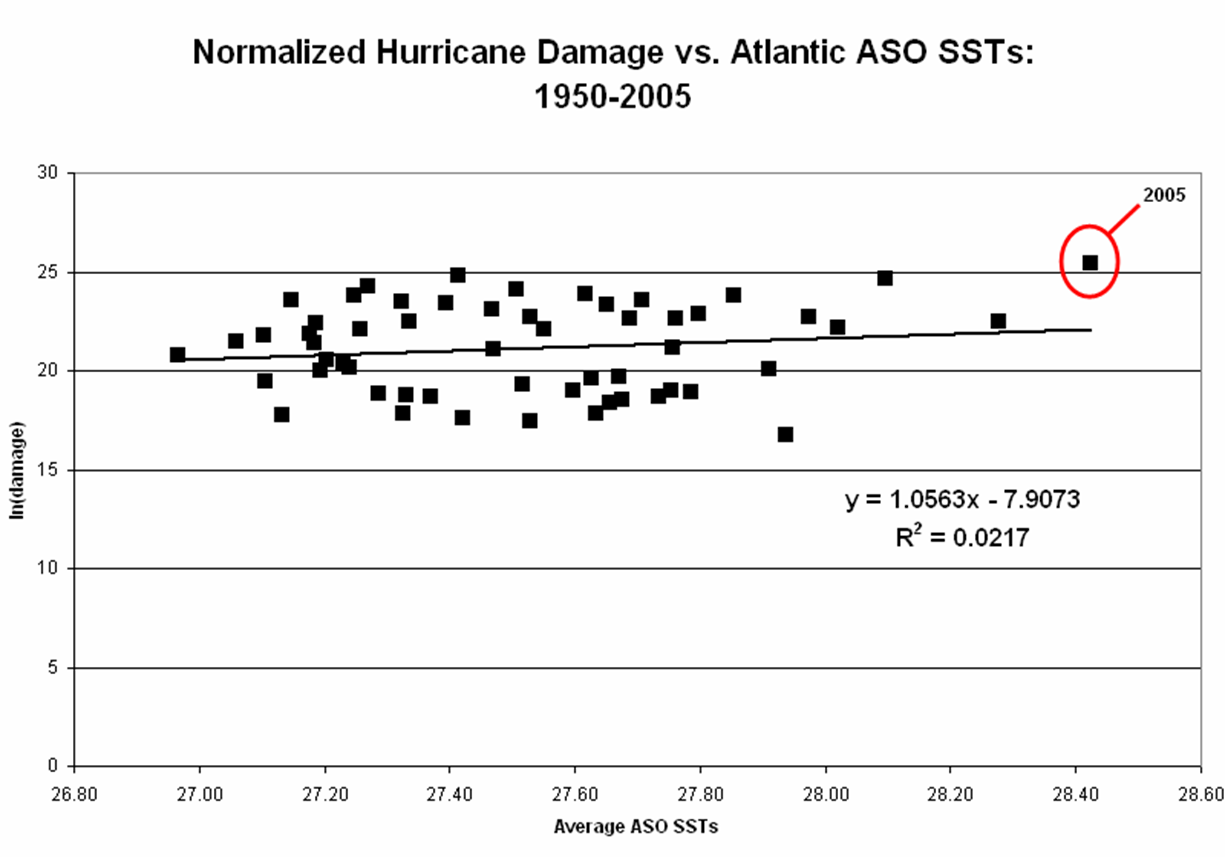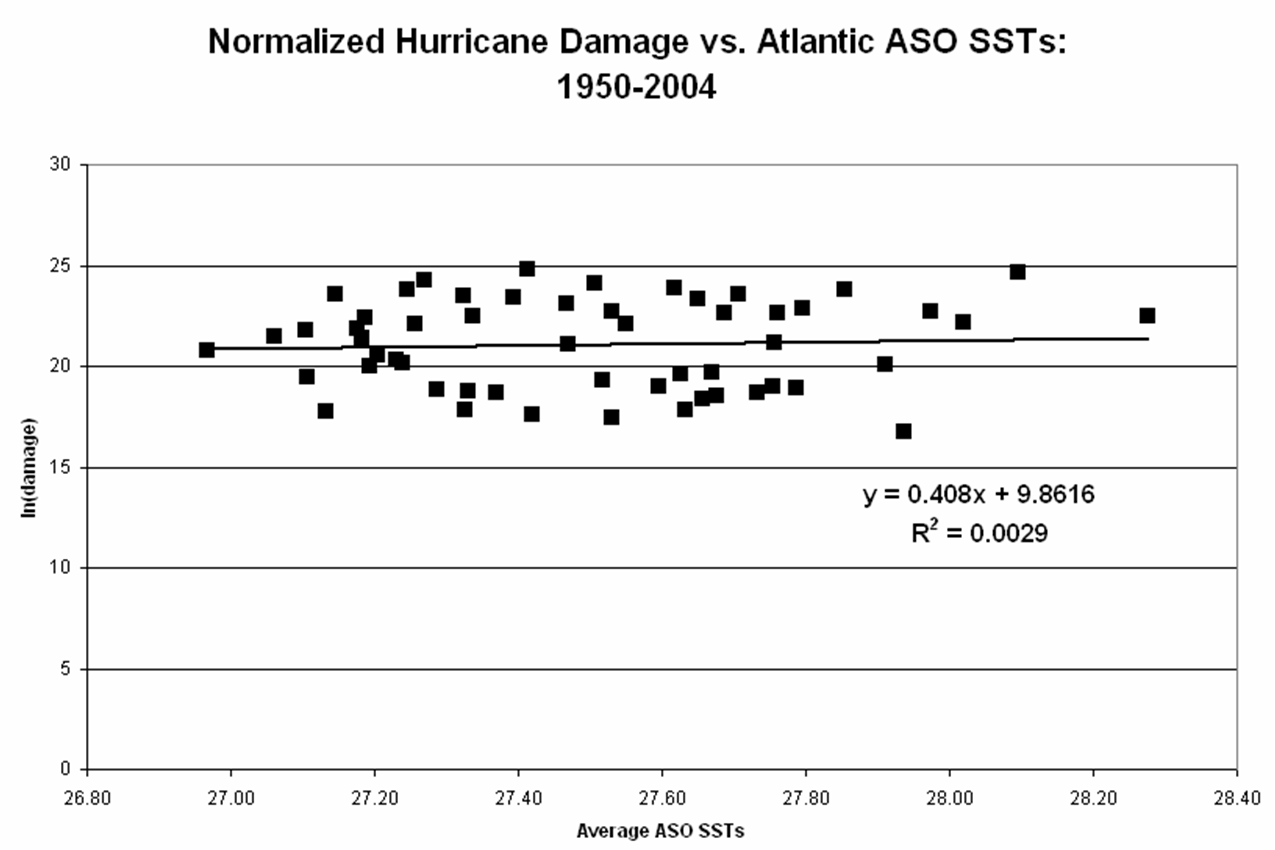 To provide my answer to the question posted in Part 1 that kicked off this discussion. If all you know is SSTs and U.S. damage from the historical record — that is, the data shown in these graphs – then you have no statistical basis for saying what will happen in the future if SSTs increase. Faust suggests that by looking at a subset of the data a stronger relationship can be seen. Elsner suggests that by introducing other climate variables than those presented here and distinguishing intensity from frequency a stronger relationship can be seen. Both Faust's and Elnser's points are fairly made. For reasons that you'll find in the discussion this past week, I find that accepting their arguments at face value (i.e., setting aside the appropriateness of looking at a limited subset of data or the stability of relationships over time) leads to only marginal relationships (at best) whose existence are dependent upon the data of 2005. Sometimes the simplest analysis tells the whole story.
Future increases in Atlantic SSTs may indeed be accompanied by larger amounts of U.S. hurricane damage. But I find little basis for this conclusion in the overall historical record of SSTs and damage. Others disagree. I respect their views, but remain unconvinced by their analyses. If nothing else this exercise has been a wonderful example of the diversity of the scientific enterprise, and how seemingly simple questions are subject to a range of legitimate perspectives. The good news is that effective hurricane policies need not await consensus on this issue!
[Thanks to those of you who emailed ideas and comments!]