Ocean Encroachment in Bangladesh
July 31st, 2008
Posted by: Roger Pielke, Jr.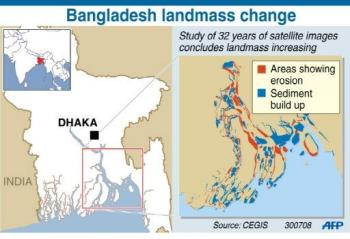 My first reaction upon seeing this story was that someone was having some fun. But it doesn't seem like benthic bacteria . . . So this article from the AFP comes as a surprise, and a reminder that forecasting the future remains a perilous business. With news like this, it seems premature to dismiss skepticism about climate science as fading away, far from it, expect skeptics of all sorts to have a bit more bounce in their steps.
DHAKA (AFP) – New data shows that Bangladesh's landmass is increasing, contradicting forecasts that the South Asian nation will be under the waves by the end of the century, experts say.

Scientists from the Dhaka-based Center for Environment and Geographic Information Services (CEGIS) have studied 32 years of satellite images and say Bangladesh's landmass has increased by 20 square kilometres (eight square miles) annually.

Maminul Haque Sarker, head of the department at the government-owned centre that looks at boundary changes, told AFP sediment which travelled down the big Himalayan rivers — the Ganges and the Brahmaputra — had caused the landmass to increase.

The rivers, which meet in the centre of Bangladesh, carry more than a billion tonnes of sediment every year and most of it comes to rest on the southern coastline of the country in the Bay of Bengal where new territory is forming, he said in an interview on Tuesday.

The United Nations Intergovernmental Panel on Climate Change (IPCC) has predicted that impoverished Bangladesh, criss-crossed by a network of more than 200 rivers, will lose 17 percent of its land by 2050 because of rising sea levels due to global warming.

The Nobel Peace Prize-winning panel says 20 million Bangladeshis will become environmental refugees by 2050 and the country will lose some 30 percent of its food production.

Director of the US-based NASA Goddard Institute for Space Studies, professor James Hansen, paints an even grimmer picture, predicting the entire country could be under water by the end of the century.

But Sarker said that while rising sea levels and river erosion were both claiming land in Bangladesh, many climate experts had failed to take into account new land being formed from the river sediment.

"Satellite images dating back to 1973 and old maps earlier than that show some 1,000 square kilometres of land have risen from the sea," Sarker said.

"A rise in sea level will offset this and slow the gains made by new territories, but there will still be an increase in land. We think that in the next 50 years we may get another 1,000 square kilometres of land."

Mahfuzur Rahman, head of Bangladesh Water Development Board's Coastal Study and Survey Department, has also been analysing the buildup of land on the coast.

He told AFP findings by the IPCC and other climate change scientists were too general and did not explore the benefits of land accretion.

"For almost a decade we have heard experts saying Bangladesh will be under water, but so far our data has shown nothing like this," he said.