Number 16, June 1999
"What's happening on the Societal Aspects of Weather WWW Site."
---
---
Editorial
---
Staying Ahead of the Weather:
The Storm Prediction Center and the National Severe Storms Laboratory
On Monday, May 3, 1999 more than 70 tornadoes tore through Oklahoma and Kansas, killing 46 people injuring scores more, and resulting in more than $1 billion in damage.
The National Weather Service called the outbreak [http://www.nssl.noaa.gov/headlines/outbreak.shtml] one of the most severe in this country in the past 50 years. According to Charles Doswell [http://www.wildstar.net/~doswell/Tornado_essay.html], one of the nation's experts on tornadoes, there are two important factors that kept loss of life from being even higher. One was luck, in the sense that the storm did not strike in the middle of the night or cross a busy interstate crowded with rush-hour traffic. The second was that the nation's severe weather infrastructure performed admirably in a region where people take official warnings seriously and are prepared to respond. The event was but one of many that has recently underscored the importance of the nation's severe weather infrastructure.
At the heart of the U.S. government's assault on severe weather are the Storm Prediction Center (SPC) of the National Weather Service (NWS) and the National Severe Storms Laboratory (NSSL) of the Office of Atmospheric Research, both of which fall under the mantle of the National Oceanic and Atmospheric Administration (NOAA) in the Department of Commerce. These organizations work closely with the NWS Weather Forecast Offices to alert the public to impending severe weather. Several offices, including those in Norman and Tulsa, Oklahoma and Wichita, Kansas, played a significant role in the May 3 outbreak.
The two organizations are co-located [http://www.photolib.noaa.gov/lb_images/nssl/nssl0021.htm] on the open plains of Norman, Oklahoma, appropriately in the heart of Tornado Alley.
SPC and NSSL are similar to the better-known National Hurricane Center and NOAA's Hurricane Research Division in Miami, Florida which focus respectively on the operational forecasting and scientific research of tropical cyclones.
According to SPC, its mission is to "monitor and forecast severe and non-severe thunderstorms, tornadoes, winter storms, extreme winds, heavy rain and other hazardous weather phenomena across the continental U.S. — every hour of the day and night, every day of the year."
The mission of NSSL is to "provide accurate and timely forecasts and warnings of hazardous weather events . . . through a balanced program of research; to advance the understanding of weather processes research; to improve forecasting and warning techniques; development of operational applications and transfer of understanding, techniques, and applications to the NWS and other public and private sector agencies."
The organizations work closely with each other as well as with the University of Oklahoma, a national leader in meteorological research. With the impacts of severe weather growing across the nation, these institutions along with the entire NWS organization together address an increasingly important national need.
But with increasing importance to the nation also comes more visibility and responsibilities. NOAA and its National Weather Service, and ultimately the U.S. Congress, need to give careful consideration to the future of the nation's severe weather infrastructure. Two important issues to be addressed are (1) appropriately evaluating performance in order better target research investments and to accelerate the transition from scientific discovery to societal benefit, and (2) providing the necessary support to these national centers in order to meet the demands of a nation hungry for severe weather information.
Quantifying the value of the nation's severe storms infrastructure is a challenging task, and one that has not been adequately addressed.

Harold Brooks, a scientist at NSSL, has provided some information that allows us to begin to tackle this issue. http://www.nssl.noaa.gov/~brooks/tornado/#alltorn/ (See also the work of Charles Doswell also a NSSL scientist: Tornadoes: Some Hard Realities [http://www.wildstar.net/~doswell/Tornado_essay.html]

Budget-Cutting and the Value of Weather Services [http://www.nssl.noaa.gov/~doswell/NWS_value/value2.html])

Brooks shows that the nation has gone from an average annual loss of life to tornadoes of more than 300/year in the 1920s to less than 100 per year in the 1990s. The data is even more striking when considered in the context of the nation's population growth. Brooks reports that from 1880-1924 the death rate was about 1.8 per million, which has declined to a value of 0.14 per million by 1997. Considering that official tornado warnings date to 1948 [http://www.nssl.noaa.gov/GoldenAnniversary] Brooks notes that:

"I cannot explain the decrease. Lots of things contribute — improved forecasts and warnings, communication of warnings, better housing, the movement of people from rural areas to urban areas, less time being spent outdoors, etc. (Before we, in the meteorological and preparedness communities pat ourselves on the back, it is important to note that lightning deaths also show a decreasing trend over this time period, but we do little forecasting or preparedness work on that problem, in comparison to tornadoes.)"

Others have been more critical in their assessment of how the National Weather Service evaluates its severe weather forecasts. See, for example:

http://www.weatherconsultant.com/Verification.html
http://www.wildstar.net/~tornado/verf.htm

As the impacts associated with extreme weather increase, demands from the public and policy makers for the weather community to "do something" will also increase. The weather community will be more effectively able to respond to such demands if it understands the relationship between its products and societal outcomes. Today, we simply don't have that understanding. The NWS could conduct research needed to gain that understanding, but perhaps more appropriately, a quasi-independent entity like the U.S. Weather Research program could oversee the needed studies, and of course there are other organization possibilities. The bottom line is that if the nation expects improvements in its severe weather infrastructure, then we must better understand the relationship of weather forecasts and societal outcomes, including improved documentation of severe weather events.

The role of the SPC and NSSL has changed. The organizations were once viewed as serving primarily internal NWS needs, such as those of its local forecast offices. Increasingly, the public, media, and private sector are going straight to SPC and NSSL to obtain severe weather information. Not being designed to conduct large-scale interactions with the media and the public, these demands create tremendous pressures on these organizations. For instance, after the May 3 tornado outbreak, the media had an almost insatiable appetite for information about tornadoes. Harold Brooks reports spending 33 hours and giving more than 70 interviews in the days that followed.

An effective communications capability is critical to the success of any forecast process — as important as the generation of the forecast itself. Thus, the heroic efforts of Brooks and others at the SPC and NSSL should be applauded. But when demand for information exceeds the capability to provide information, the entire forecast process can suffer as a result. The two institutions have for the first time hired a shared public relations specialist to work with the media. This is a small step in the right direction and should be applauded. Given the nation's increasing demands for information on severe weather, the parent institutions of SPC and NSSL (as well as the US Congress) might carefully consider whether these organizations should be outfitted with a public and media relations capability more in line with their role as national centers. Effectively instituted, a more robust public and media relations capability could serve to improve the nations capabilities to deal with severe weather.

The United States experiences as wide a range of weather extremes as any nation on earth. It is thus fitting that it also has the most advanced infrastructure to help its citizens respond. With careful attention to the changing demands for and role of severe weather information, the nation will be better prepared to stay one step ahead the weather.
— Roger A. Pielke, Jr.
[ Contents ]
---
Community News
---
Emergency Information Infrastructure Partnership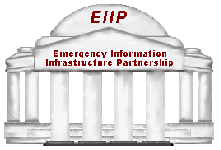 The Emergency Information Infrastructure Partnership (EIIP) is a voluntary association of organizations and individuals seeking to enhance effectiveness in coping with disasters and emergency situations, by exploring the opportunity for sharing information and ideas made possible by electronic technology. The EIIP believes the Internet and World Wide Web (WWW) are global tools to unify and benefit the emergency professional community in a united and coordinated manner. Through partnering and the EIIP Virtual Forum, the EIIP is striving to achieve its vision and mission. The EIIP Virtual Forum fosters partnerships and interactive dialogue through 'live chats', newsgroups, and mail lists. Partners are from government, business, academia, and voluntary organizations/NGOs.
Please bookmark the EIIP Virtual Forum ( http://www.emforum.org ) — browse the site for a sense of where we have been, where we are, and where we're going. Please see:
Lists of our Partners: http://www.emforum.org/partners/partners.htm
Partnership Criteria/Agreement Form: http://www.emforum.org/partners/criteria.htm
EIIP Activities: http://www.emforum.org/eiip/eiip.htm
Survey Results: http://www.emforum.org/eiip/results.htm
Monthly Newsletter: http://www.emforum.org/eiip/news.htm
Upcoming Events: http://www.emforum.org/events.htm
Live Chat Archive: http://www.emforum.org/vlibrary/livechat.htm
Red River Basin Disaster Information Network (RRBDIN): http://www.emforum.org/redriver/
And much, much more!
We are online a minimum of two times a week with our chat capability available to our Partners upon request for committee and Board meetings, etc.
Tuesdays 12:00 PM Eastern Time — Informal Round Table discussion led by Partners
Wednesdays 12:00 Noon Eastern Time — Formal Discussions that rotate from the Virtual Library, Virtual Classroom, EIIP Panel Room, and the Technology Arena.
Login for all sessions
http://www.emforum.org/vforum/formchat.htm
User Account and Password are required for chat sessions and Discussion Groups; may be set up from both Virtual Forum home page and the login URL given above. The Virtual Forum does not require download of special software but we do recommend Netscape Communicator or Microsoft Explorer 4.0 or higher for full JAVA capability.
Contacts:
Avagene Moore, CEM
EIIP Coordinator
Email: amoore@emforum.org
V: (931)762-4768 F: (931)762-7359
Lawrenceburg Tennessee USA

Amy Sebring
EIIP Technical Projects Coordinator
Email: asebring@emforum.org
V: (361)937-4177 F: (361)937-0535
Corpus Christi Texas USA
[ Contents ]
---
New Additions to the WWW Site
---
Tropical Cyclone
Hurricanes: The Greatest Storms on Earth
http://hurricanes.noaa.gov/
This NOAA site presents the latest hurricane news and extensive background information, as well as links to numerous sources of hurricane information, including local sites.
Office of Meteorology — Hurricane Awareness
http://www.nws.noaa.gov/om/hurricane/index.html
This site provides several on-line preparedness guides in both Spanish and English, current watches and warnings, on-line tracking charts, and links to many of the national agencies dealing with hurricane preparedness, response, and recovery.
Hurricane Forecast Team
http://tropical.atmos.colostate.edu/forecasts/index.html
No doubt many readers are familiar with the annual forecasts of Atlantic hurricane activity issued by Professor William Gray and his colleagues at Colorado State University. This official Web site of that group provides much more than the usual bare-bones CNN Bill Gray sound bites. Rather, it offers in-depth information on both the processes and the results of the group's extensive investigations into pre-season climatological signals that anticipate upcoming hurricane activity.
Did Public Regulations Matter? Rebuilding the North Carolina Coast After Hurricane Fran.
http://www.heinzctr.org/Update.htm#Hurricane Fran
Rutherford H. Platt, University of Massachusetts.
[ Contents ]
---
Lightning
National Weather Service Training Center
http://www.nwstc.noaa.gov/d.HMD/Lightning/Ltng_home.htm
The National Weather Service Training Center (NWSTC) is responsible for (among other things) training weather forecasters in the use of the new technology that forms the backbone of the modernized weather service. That technology includes AWIPS (Advanced Weather Interactive Processing System), the UNIX-based system that forecasters are now using to integrate and display data. To support that training, this section of the NWSTC Web site offers extensive information about lightning — from fundamental physics, to detection, to safety, to climatology. The site includes several case studies of severe lightning outbreaks as well as references and a glossary of lightning terms.
[ Contents ]
---
Tornadoes
Committee Hearings — 106th Congress
http://www.house.gov/science/106_hearing.htm
Chuck Doswell's Home Page
http://www.wildstar.net/~doswell/opfun.html
This is a list of essays that relate to tornadoes. See also his home page at NSSL [http://www.nssl.noaa.gov/~doswell], NOAA.
[ Contents ]
---
Organizations/Groups
The Disaster Center
http://www.disastercenter.com/
This is a commercial site that asks the question: how can we best use the internet to provide information related to disasters? There are many other organizations that fill similar roles. FEMA, Red Cross, and other non profit agencies provide important reporting and information distribution functions, which are secondary to their primary agency functions. The Disaster Center's primary function by design, is in its information distribution and collection functions.
[ Contents ]
---