International Collective on Environment, Culture & Politics
Analysis: The climate papers most featured in the media in 2018
Carbon Brief, January 2019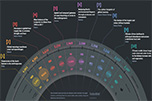 ICE CaPs MeCCO contribution to the 2018 Lancet Countdown Report was highlighted Carbon Brief. In a year dominated by events such as Brexit, royal weddings, the Salisbury poisonings, US Supreme Court nominations and the World Cup, there was still space in the news media in 2018 for reporting on new climate research. These new journal papers were reported around the world in news articles and blogs and shared on social media sites, such as Twitter, Facebook, LinkedIn and Reddit. Tracking all these "mentions" was Altmetric, an organisation that scores and ranks papers according to the attention they receive. (Full details of how the Altmetric scoring system works can be found in an earlier article.) Using Altmetric data for 2018, Carbon Brief has compiled its annual list of the 25 most talked-about climate change-related papers of the year. The infographic above shows which ones made it into the Top 10. Read more ...

MeCCO Figures: Media and Climate Change Observatory
The Media and Climate Change Observatory (MECCO) monitors fifty sources across twenty-five countries in seven different regions around the world. MECCO assembles the data by accessing archives through the Lexis Nexis, Proquest and Factiva databases via the University of Colorado libraries. See figures ...