International Collective on Environment, Culture & Politics
Analysis: The climate papers most featured in the media in 2019
Carbon Brief, January 2020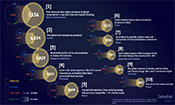 ICE CaPs MeCCO contribution to the 2019 Lancet Countdown Report was highlighted Carbon Brief. The impacts of climate change and extreme weather also hit many newspaper frontpages over the past 12 months, from devastating fires in both the Amazon and Australia to Greenland's melting ice sheet. Amidst an extraordinary year for media coverage of climate change, scientists and researchers were busily publishing thousands of peer-reviewed journal papers on their latest findings. These were reported around the world in news articles and blogs and shared on social media platforms, such as Twitter, Facebook, LinkedIn and Reddit. Tracking all these "mentions" was Altmetric, an organisation that scores and ranks papers according to the attention they receive. Read more ...

MeCCO Figures: Media and Climate Change Observatory
The Media and Climate Change Observatory (MECCO) monitors 113 sources (across newspapers, radio and TV) in 55 countries in seven different regions around the world. MECCO assembles the data by accessing archives through the Lexis Nexis, Proquest and Factiva databases via the University of Colorado libraries. See figures ...