Project News
Presidential Science Advisor Lecture Series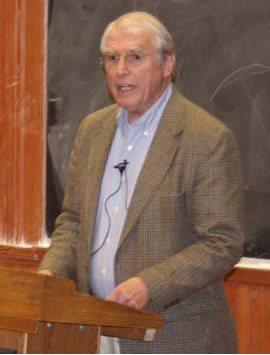 The Center's lecture series, "Policy, Politics, and Science in the White House: Conversations with Presidential Science Advisors," winds down this spring. On January 31, Dr. George (Jay) Keyworth, science advisor to President Ronald Reagan from 1981 to 1986, spoke to approximately 175 people on the University of Colorado campus about issues such as his role in promoting the Strategic Defense – or "Star Wars" – initiative during the Reagan presidency. Dr. Keyworth also visited undergraduate and graduate classes and met informally with faculty, students, and researchers to discuss science policy. The series has also included talks by Drs. John Marburger (G.W. Bush), John Gibbons (Bill Clinton 1st term), Neal Lane (Bill Clinton 2nd term), Edward David (Richard Nixon), and Donald Hornig (Lyndon Johnson).
The final speaker in the series, Dr. Frank Press, science advisor to President Jimmy Carter, will give a free public talk on April 11 at 7 pm in MCD Biology Room A2B70 on the CU-Boulder Campus. For more information including transcripts and webcasts of past talks visit the series website. To be placed on the science advisor mailing list and receive email notices of upcoming events click here. Each science advisor forum will be broadcast on Boulder Municipal Channel 8 television station and also as a live webcast – check the Channel 8 schedule for more information.
The Center will be compiling a book based on the series featuring contributions by each of the advisors who appeared in the series and chapters by other authors addressing science and technology policy issues at the federal level.
Science Policy Assessment and Research on Climate ("SPARC")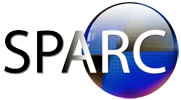 SPARC research has been submitted to a special issue of Environmental Science and Policy discussing reconciling supply of and demand for carbon cycle science, with papers by Roger Pielke, Jr. and Dan Sarewitz, Nat Logar and Rich Conant, Elizabeth McNie, Lisa Dilling, Myanna Lahsen, and Eva Lovbrand.
Planning continues for an exciting workshop to be held in Munich, Germany titled "Climate Change and Disaster Losses: Understanding and Attributing Trends and Projections." In addition to SPARC support, the project is also being supported by Munich Re, a global reinsurance corporation.
Lisa Dilling presented research on the use of carbon cycle science for decision making related to energy at the Climate Change Science Program workshop on Decision Making, and Genevieve Maricle and Roger Pielke, Jr. presented a comprehensive overview of current SPARC research in the decision support section of the meeting.
SPARC research was presented at the American Geophysical Union's fall meeting in a paper by Lisa Dilling, Roger Pielke, Jr. and Dan Sarewitz titled "The missing link: Creating science policies that facilitate the use of research in environmental and water-related decision-making." Roger Pielke, Jr., Chris Landsea and Joel Gratz also presented at the AGU fall meeting in their paper "Normalized Hurricane Damages in the United States: 1900-2005."
Genevieve Maricle, Lisa Dilling and Roger Pielke, Jr. presented three co-authored SPARC presentations at the First Symposium on Policy Research at the Annual American Meteorological Society meeting in Atlanta, Georgia titled "In search of new options: Characterizing and defining atmospheric science policy research," "Assessing science policies for climate research: New options for organizing research in support of decision making under uncertainty," and "Applying science policy research: The case of the carbon cycle science program." Erik Noble gave a presentation titled "U.S. Flood Damage: Future expectations based upon historical trends" at the AMS meeting.
For more information visit the SPARC website.
Lessons in Technology Transfer Policy
for the Atmospheric Sciences: A case study in Public-Private-Academic
Partnership on Level II Radar Data

Center graduate student Joel Gratz recently completed a policy study for the National Weather Service as his Master's thesis. The policy study focused on the NWS's national network of 158 NEXRAD WSR-88D weather radars. The government completed the installation of these radars in the early 1990s, yet it was not until the late 1990s when new technologies and organizational motivation coalesced into an opportunity to openly disseminate the Level-II radar data in real time. Level-II radar data is the highest resolution data regularly produced by the government's radar network.
The study explores the development and outcomes of the current Level-II radar data dissemination system and draws three primary conclusions for leaders of the weather community:
Level-II users and providers must use quantitative and qualitative measures to track the program's success and direct priorities for improvement;
the use of University-based Top-Tier sites to distribute the data equates to a reliable and scalable architecture with a high level of service for clients; and
the NWS should strongly consider the needs of academic and private sector users when it creates internal data and service requirements, since these two sectors are the major clients of NWS data and products.
Joel presented this research at the American Meteorological Society Annual meeting in Atlanta and is also editing his thesis for publication in the Bulletin of the American Meteorological Society with co-authors Roger Pielke Jr., Ed Johnson of the NWS, and Jim Block of Meteorlogix.
For more information visit the project website.