Center Talks and Events
CSTPR Noontime Seminar Series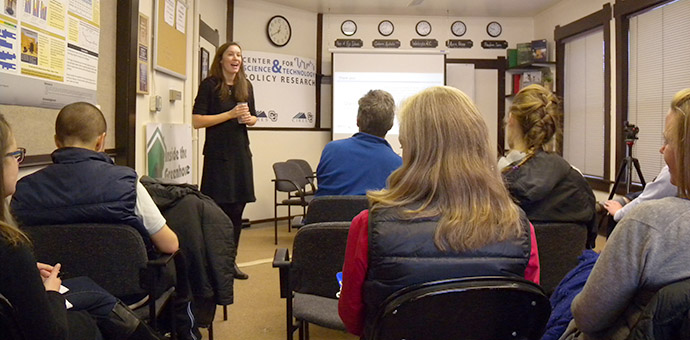 The spring 2017 noontime seminar series is underway. All talks take place at noon in the CSTPR conference room, are free and open to the public, and most will also be webcast. Directions are available here. The schedule is as follows:
January 25, 2017
Supraregulatory Agreements and Public Perceptions of Unconventional Energy Development in Colorado
by Jessica Smith, Liberal Arts and International Studies, Colorado School of Mines
February 8, 2017
Transitioning Research to Operations in an Applied Science Program
by Elizabeth McNie, Western Water Assessment
February 15, 2017
The High Water Mark: Policy Lessons Learned from Colorado's 2013 Floods
by Deserai Crow, School of Public Affairs, University of Colorado Denver
February 22, 2017
Addressing Climate Change as an Engineering Challenge: Scientific Expertise in U.S. Geoengineering Politics
by Julia Schubert, Forum Internationale Wissenschaft, Bonn, Germany
March 8, 2017
Emerging Biotechnologies and Public Engagement
by Jason Delborne, Science, Policy, and Society, North Carolina State
March 15, 2017
Climate Change Politics and Machine Learning
by Justin Farrell, Yale University
March 22, 2017
Machine Learning, Social Learning and Self-Driving Cars
by Jack Stilgoe, Department of Science and Technology Studies, University College London
April 12, 2017
Renewable Energy in Africa: Findings from the Social Sciences
by Kathleen Hancock, Colorado School of Mines
April 26, 2017
Anticipating Disaster: Local Dependence on Formal Climate Information vs. Traditional Ways of Knowing
by Sierra Gladfelter, Geography Department, University of Colorado Boulder

The full schedule including titles, abstracts, bios, and webcast information can be found here.

---
Stand Up for Climate Change: An Experiment With Creative Climate Comedy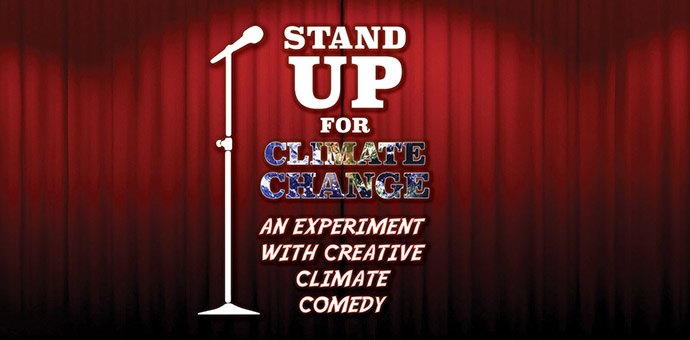 Friday, March 17, 2017
at 7:00 PM
Old Main Auditorium
University of Colorado Boulder
Free and open to the public
Humor is a tool underutilized, and comedy has the power to effectively connect with people about climate change issues. Our event is associated with the Spring 2017 'Creative Climate Communication' course (ENVS3173/THTR4173) and the larger 'Inside the Greenhouse' project.