Caught in a Lie
September 27th, 2006
Posted by: Roger Pielke, Jr.
There is an old political maxim that it is not the event but the cover-up that gets politicians in trouble. The issue of a two-page NOAA fact sheet and the decision by leadership in NOAA and/or its parent agency, Department of Commerce, to prevent its release is yet another lesson in Politics 101.
The figure below shows a recent version of the NOAA "fact sheet." (Note that I have received multiple copies from independent sources, several of whom — but not all — who asked me not to post. Several, but not all, of the documents have different dates, but the differences are not substantive. I present a screen shot of a version so as not to inadvertantly reveal where it came from.)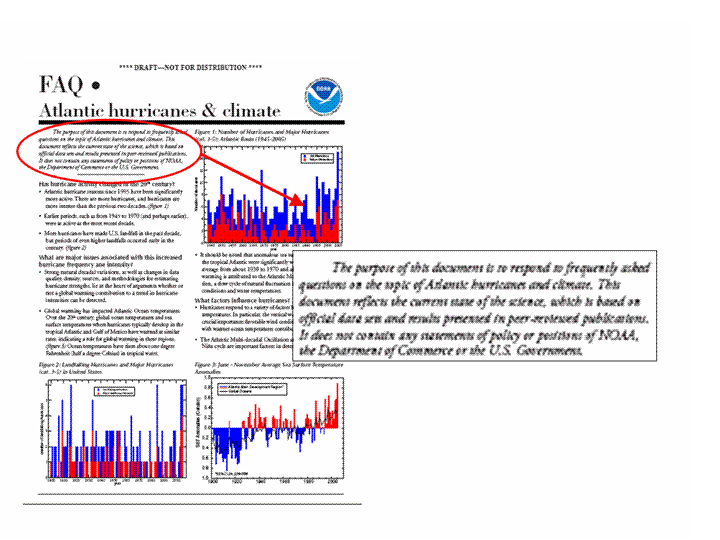 The document is clearly prepared for public dissemination. It includes the following text that I have circled:
The purpose of this document is to respond to frequently asked questions on the topic of Atlantic hurricanes and climate. This document reflects the current state of the science, which is based on official data sets and results presented in peer-reviewed publications. It does not contain any statements of policy or positions of NOAA, the Department of Commerce or the U.S. Government.
This is obviously not a statment one would find on an internal document. The second page includes the statement at the bottom "Visit us on the web at www.noaa.gov." Surely not a request made to employees.
Compare this to how Nature yesterday (here) reported NOAA Administrator Conrad Lautenbacher's description of the document.
When asked about the document, NOAA administrator Conrad Lautenbacher told Nature that it was simply an internal exercise designed to get researchers to respect each other's points of view. He said it could not be released because the agency cannot take an official position on a field of science that is changing so rapidly.
An internal exercise? Bush Administration appointees it seems can make plenty of smoke appear even when there is no fire.