Welcome to CU, Mickey Glantz!
September 25th, 2008
Posted by: Roger Pielke, Jr.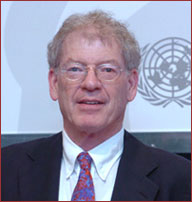 [UPDATE: CU press release here.]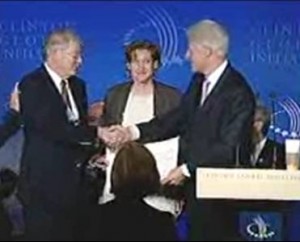 [UPDATE #2: Above is a screenshot of Mickey, Judith Rodin, President of the Rockefeller Foundation, and Bill Clinton from the CGI live stream taken at 2:05PM MST today]
Thanks to a generous grant from the Rockefeller Foundation, Mickey Glantz (pictured above), Tsegay Wolde-Georgis, and Qian Ye will be joining the University of Colorado to establish a new Consortium for Capacity Building. The grant is being announced at the Clinton Global Initiative and is covered in today's New York Times:
A program that helps poor countries reduce their vulnerability to floods, drought and other climate-related hazards will move to the University of Colorado, Boulder, under a grant from the Rockefeller Foundation, foundation and university officials said Wednesday.

The announcement was made weeks after the loss of government support for the program, the Center for Capacity Building. It will move from the National Center for Atmospheric Research, in Boulder, which eliminated its $500,000 annual budget last month, citing budget cuts and shifting priorities, to the university under a $1 million grant spread over two years, said Judith Rodin, the president of the Rockefeller Foundation. Ms. Rodin said more support was likely. The name will change to the Consortium for Capacity Building because one goal will be to build relationships with foreign institutions.
I and many of my colleagues are looking forward to working with Mickey, Qian, and Tsegay on developing the CCB at CU. Thanks to the Rockefeller Foundation for this strong show of support in the CCB and CU!