Cutler and Glaeser on Why do Europeans Smoke More Than Americans? Part II
April 27th, 2006
Posted by: Roger Pielke, Jr.
This is a second post discussing a paper by two Harvard economists, David Cutler and Edward Glaeser, available at the National Bureau of Economic Research that raises some interesting questions about the role of science and advocacy on the smoking issue. In this post I'd like to ask some questions about Figure 3 in that paper, reproduced below. For me, Figure 3 raises some really interesting questions about the relationship of science, advocacy, and societal outcomes for which I really have no answers for. I am hoping that Prometheus readers can point me to serious, scholarly literature that might explain what is shown in figure 3.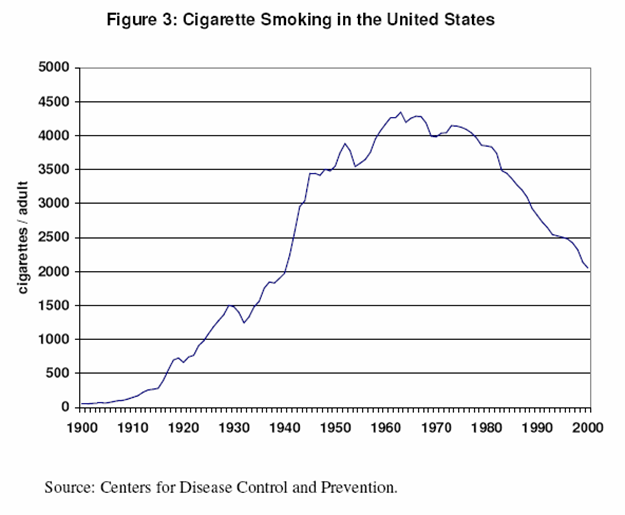 Figure 3 shows an increase in smoking in the U.S. through about 1950, broken up only by the Great Depression. There is then a drop off, which Cutler and Glaeser attribute to a first "health scare" about cigarettes which appeared first in the scientific literature and then in the popular media. The upward trend then resumes until the 1960s, a few ups and downs follow, and then, remarkably, from about 1970 on, a steady, almost monotonic decrease.
The question I have is, given these trends, how can one identify the effectiveness of advocacy for and against smoking, and in particular the role of science, uncertainty, and so-called "junk science" in outcomes as measured by societal outcome, in this case the number of cigarettes smoked per adult.
I have thought a good deal about this graph and it seems to show perhaps a number of things, which I suggest below.
1. In the battle over smoking efforts to deny a link between smoking and health risks seems to have been completely a lost effort. There is precious little evidence of the effects of such campaigns in this data. Of course, one could argue that the rate of decrease would be larger without such campaigns, however, if that were the case one would probably expect to see shorter term effects as such campaigns are more or less successful over time. This is a puzzle.
2. There are likely population effects that need to be disaggregated. This is smoking per adult, and as national population grows, this perhaps reflects less people deciding to take up smoking rather than a large increase in people quitting. But such data would be worth gathering.
3. Interestingly, there seems to be no acceleration of the trend in reduction of smoking as the scientific basis for a link between smoking and health risks became much stronger over time. The rate of change in this graph seems at a glance to be about the same in 1975 as it was in 1995. If there was a tight relationship between scientific understandings and societal outcomes, I'd hypothesize an ever increasing rate of change on this issue, especially as the pro-smoking media campaigns have waned. Now it could be that a bunch of complex factors conspire to randomly keep the rate of change in balance, and more analysis would be needed to determine this.
4. To me this data suggests a similarlity with data and findings in other areas of science. Specifically, science has a huge role in getting a subject onto the "agenda" of decision making, but after that, its role is very much dimished and subsumed to other factors, such as cultural, social, and political. If this is correct, it would require some deeper understanding about the role of advocacy relatd to scientific issues and the efficacy of using science as a tool of advocacy. This begs the question — why has anti-smoking advocacy been so successful over time? The throwaway answer that increasing scientific certainly is the key does not seem to jibe with this data.
For me this graph opens up some fundamenal questions tha arise at he intersection of science, advocacy, societal outcomes. I am motivated enough to follow this up with some actual research, so I'd welcome any comments and suggestions. The case of smoking/science is often raised in discussions of climate change and other areas as an analogy, but I am not convinced that such analogies are based on anything more that supposition, guesses, and assumptions.