A Sense of Proportion
February 25th, 2008
Posted by: Roger Pielke, Jr.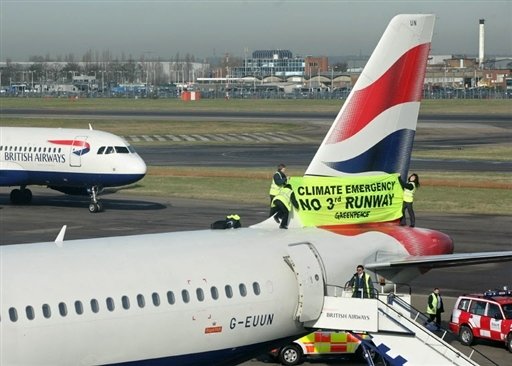 At London's Heathrow airport today environmental activists evaded security and climbed onto the tail of a British Air 777 to protest plans for building a third runway at the airport.
Meantime, last month the Chinese government announced plans to build 97 new airports in the next 12 years.
China announced plans Saturday to build nearly 100 new airports by 2020 to cater for soaring demand.

The proposals will mean eight out of every ten residents will live within 100 kilometres (60 miles) of an airport within 12 years, the General Administration of Civil Aviation said.

It put the cost of building the 97 new airports at 450 billion yuan (61.6 billion dollars).

Air traffic volume rose 16 percent to 185 million passengers in 2007, according to official figures.

The General Administration predicts passenger traffic will grow by 11.4 percent a year between now and 2020, and freight traffic by 14 percent.

The number of airports serving more than 30 million passengers a year will rise from three now to 13, it said.