Current Research Projects
Climate Adaptation
Decision Models
We are developing a set of decision analysis models aimed at understanding, and simulating, the decision process for response to climate variation among resource managers like farmers, ranchers, conservationists and others. Decision analysis can: (1) Help analysts and decision-makers recognize the structure, trade-offs, and likely outcomes of a range of choices made under uncertainty; (2) Provide tools for testing how sensitive decisions are to climate variation, to improved information, or to down-side risks; (3) Suggest optimum, robust, or least-regret decisions. Read more ...
Interactions of Drought and Climate Adaptation (IDCA) for Urban Water
This NOAA Sectoral Applications Research Program (SARP) project is examining how drought policies interact with both short-term drought and long-term climate change. It is asking whether adjustment today or in the past lead to more resilient systems across climate time scales. The project researchers hypothesize that the more effective a policy becomes in terms of increasing water use efficiency, the more reliant the system becomes on accurate information. Read more ...
Red Cross/Red Crescent Climate Centre Internship Program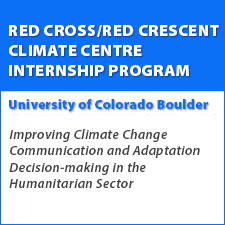 This program seeks to improve climate change communication and adaptation decision-making in response to climate variability and change within the humanitarian sector. It connects humanitarian practitioners from the Red Cross/Red Crescent Climate Centre [RC/RC CC] an affiliate of the International Federation of Red Cross and Red Crescent Societies [IFRC] with science-policy graduate student researchers at the University of Colorado. Read more ...
A Socioeconomic Impacts and Adaptation Strategies Clearinghouse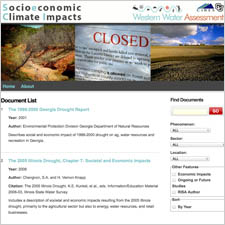 This project entailed the creation of an online, searchable database of research on socioeconomic impacts of climate change in the Intermountain West. It has been populated with over 200 items, including peer- and non-peer-reviewed articles, reports, websites, presentations, etc. addressing the socioeconomic impacts of various climate phenomena. Read more ...
Successful Adaptation to Climate Change: Linking Science and Policy in a Rapidly Changing World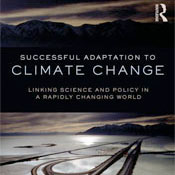 What does successful adaptation look like? This is a question we are frequently asked by planners, policy makers and other professionals charged with the task of developing and implementing adaptation strategies. While adaptation is increasingly recognized as an important climate risk management strategy, and on-the-ground adaptation planning activity is becoming more common-place, there is no clear guidance as to what success would look like, what to aim for and how to judge progress. This edited volume (Susanne Moser and Maxwell Boykoff) makes significant progress toward unpacking the question of successful adaptation, offering both scientifically informed and practice-relevant answers from various sectors and regions of the world . Read more ...
Understanding the Drivers of Adaptation at the Municipal Level in CO, WY and UT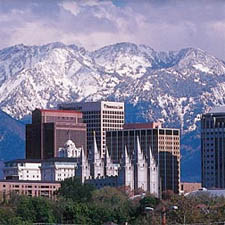 Lisa Dilling is co-leading this WWA-funded project to investigate why some local decision makers choose to adapt to climate-related stress and risk while others do not. Our idea is to systematically investigate the conditions under which local decision-makers in cities and large towns in Colorado, Utah, and Wyoming decide to adapt (or not) to increased climate-related risk and hazards.
Read more ...