Center in the News
Center personnel continue to receive national media attention on a variety of topics.
Roger Pielke, Jr.'s Letter to the editor appeared in the 21 July 2008 Financial Times on the cost of carbon: Political realities will undermine energy pricing by Roger Pielke, Jr.
Roger Pielke, Jr. was quoted in an 18 May 2008 Washington Times article on climate model predictions: Real intelligence failures by Richard W. Rahn.
Lisa Dilling was quoted in a 24 April 2008 ClimateWire article on the affects of pine beetles on global warming: Could an ant-sized insect spur global warming? by Christa Marshall.
---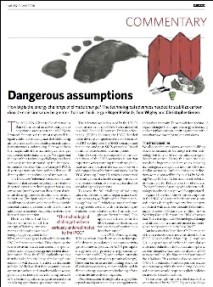 Roger Pielke, Jr's Nature commentary (with Tom Wigley and Chris Green), Dangerous Assumptions has been cited, referred to or commented on by numerous media around the world. The following are a sample: