Center News
We Are Hiring!!

This is a fantastic opportunity for individuals who conduct science and technology policy research. Please see our website for the wide range of research and outreach going on at the Center. Also feel free to contact Lisa Dilling at the Center if you have any questions about the position.
Faculty Position, Center Director
Science and Technology Policy Research
CIRES, University of Colorado at Boulder
The University of Colorado at Boulder seeks to hire a Faculty Director for the Center for Science and Technology Policy Research of the Cooperative Institute for Research in Environmental Sciences. Applicants must have demonstrated achievement in science and technology policy research. This position allows substantial time for research as well as leadership and administrative service as Center Director. The successful candidate must have an established interest in interdisciplinary research and teaching, and must be willing to contribute to both undergraduate and graduate teaching related to science and technology policy. The position will carry tenure within an academic department to be mutually decided upon by the candidate and department. Possibilities include Geography, Political Science, Environmental Studies, Communications, and numerous others.
Required Qualifications: Ph.D. in a field relevant to science and technology policy, a demonstrated record of excellence in extramurally supported research, and a commitment to teaching at the undergraduate and graduate levels.
To Apply: Applicants should send a letter of application, curriculum vitae, a statement on teaching experience, and three names to be used for letters of reference to http://www.jobsatcu.com/, job posting number 802370.
Questions about the application process can be directed to CIRES Human Resources. Review of applications will begin November 15 and continue until the position is filled.
The University of Colorado at Boulder is committed to diversity and equality in education and employment.
---
Center Interim Director Dr. William (Bill) Lewis Testifies Before Congress
Center interim Director Dr. William (Bill) Lewis testified at an oversight hearing before the House Committee on Natural Resources on July 31. The topic was "Crisis of Confidence: The Political Influence of the Bush Administration on Agency Science and Decision-Making". Dr. Lewis testified about his experience as chair of the Committee on Endangered and Threatened Fishes in the Klamath River Basin ("Klamath Committee"). His testimony is available here.
---
Roger Pielke, Jr.'s New Book Reviewed in Science, Nature, and The New Atlantis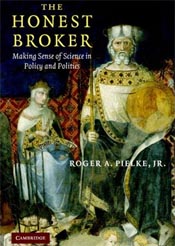 The new book by Roger Pielke, Jr. – The Honest Broker – has received positive reviews in Science and Nature (by subscription only).
A few quotes from the review by Georgetown University's Nathan Hultman appearing in the 17 August 2007 issue of Science:
"In The Honest Broker: Making Sense of Science in Policy and Politics, Roger Pielke Jr. successfully illuminates these challenges to science and scientists."

"Pielke's framework provides a helpful starting point for investigating factors that complicate the science-society relationship. . . Pielke deftly shows how scientists' selections among these options can affect outcomes."

"[T]he book's direct language and concrete examples convey the concepts to a wide audience. By categorizing different roles in the often vexed but necessary relations between scientists and their social world, Pielke clarifies choices not only for scientists but also for the diverse members of democratic society, for whom scientific perspectives are an essential component of better policy."
And from the review by Andrew A. Rosenberg from the University of New Hampshire in the 23 August 2007 issue of Nature:
"Happily, the book by Roger Pielke, Jr. on the engagement of scientists in policy offers a pithy, insightful basis for discussing the contributions scientists can make to advising policy makers…"

"This is a clear, thought-provoking book that helps move us away from thinking of science as 'pure' and distinct from policy. It would make an excellent basis for a graduate seminar. It isn't a textbook, but a think-piece, and we all need to consider carefully our responsibility to engage as scientists in policy making."
Jonathan Adler, Professor of Law and Director of the Center for Business Law and Regulation at Case Western Reserve University School of Law, also has a thoughtful review of The Honest Broker in The New Atlantis.
The Honest Broker may be purchased at Amazon. Cambridge University Press is offering The Honest Broker at 20% off -- for the coupon code visit the CUP site.
---
Fall Noontime Seminar Series
The Center's popular Noontime Seminar Series enters its 7th year this fall with an exciting lineup of speakers:
William Lewis, CIRES Associate Director and Interim Director for Center for Science and Technology Policy Research, "Klamath Raises its Head Again." September 13, 2007.
Rad Byerly, Research Scientist at the Center for Science and Technology Policy Research, "Health Care as a Science Policy Issue." October 4, 2007.
Benjamin Hale, Director of Center for Values and Social Policy and Assistant Professor in Environmental Studies and Philosophy, "Can We Remediate Wrongs?" October 25, 2007.
Paul Ohm, Associate Professor at University of Colorado School of Law, "The Internet Privacy Debate: The Problem with Balancing Security and Privacy." November 1, 2007.
David Cherney, CSTPR and ENVS graduate student, "The American West's Longest Large Mammal Migration: Clarifying and securing the common interest." November 15, 2007.
Genevieve Maricle, CSTPR and ENVS graduate student, "Shaping Science: How to Turn Science Studies into Science Action." November 29, 2007.
All talks are free and open to the public and will take place in the Center's conference room (Click here for directions).
For a complete list of all past and future talks at or sponsored by the Center (with any schedule changes), along with presentations (if available), please visit our Talks page.
To receive email notification of upcoming talks, along with abstracts, add your email address at this page.