Paris Peace Forum
by Cassandra Brooks

The CSTPR blog, Prometheus, was revived in 2016 to regularly feature content from CSTPR core faculty, research associates, postdocs, visitors, students and affiliates to serve as a resource for science and technology decision makers. This new dynamism reflects the new energies and pursuits taking place in and around CSTPR. Below we feature one of the recent Prometheus blog posts.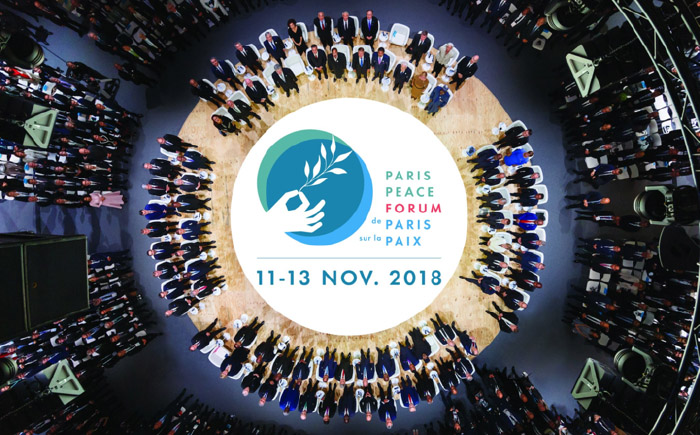 Last month French President Emmanuel Macron convened the first edition of the Paris Peace Forum, an event targeted at improving global governance writ large. This bold initiative involved 65 Heads of State and participants from all over the world. The occasion, which took place between November 11-13, 2018, marked the 100th anniversary of the end of World War I and provided a new platform as a "global meet-up" to share innovative ideas in overcoming the challenges of our era: peace and security, environment, development, new technologies and more-inclusive economy. For me and my colleagues with the Antarctica2020 project, it was an appropriate moment to highlight the opportunity and risk of Antarctica – a place of amazing historic diplomacy, but also of current dramatic threat from a changing climate.
Among the presentations of ambitious solutions, ending counterterrorism, promoting digital peace, protecting global wild cats, initiating governance for the moon – among many others, we were presenting a vision of continued diplomacy and protection for Antarctica.
At the height of the Cold War, states had Antarctica divided up like a pie. The United States and USSR were both interested in using this southern uninhabited continent for military purposes. The world watched on in fear as rumors circulated that nuclear war would be raged from the Antarctic. Incredibly, instead of using Antarctica to wage war, a peace treaty was signed – The Antarctic Treaty – which came into force in 1961. It banned all nuclear and military activity and latter amendments banned mining and set aside the entire continent as "a natural reserve, devoted to peace and science." For more than 50 years, the Antarctic has been a beacon of hope, and example of functioning multilateralism serving as a model for a vast global commons dedicated to peace and science.
However, the Antarctic is undergoing rapid environmental changes and management has failed to keep pace. The Southern Ocean around Antarctica, in particular, did not receive the same protection as the continent, so in addition to suffering the effects of climate change. fishing pressure is increasing with vessels encroaching upon penguin and whale foraging grounds. Amongst glacier collapse and sea ice changes that cause reverberations throughout the food web, Antarctic species are struggling to adapt. However, Antartica2020 is one project supporting the designation of marine protected areas in the Southern Ocean to protect biodiversity and build the resilience of the marine environment to the effects climate change.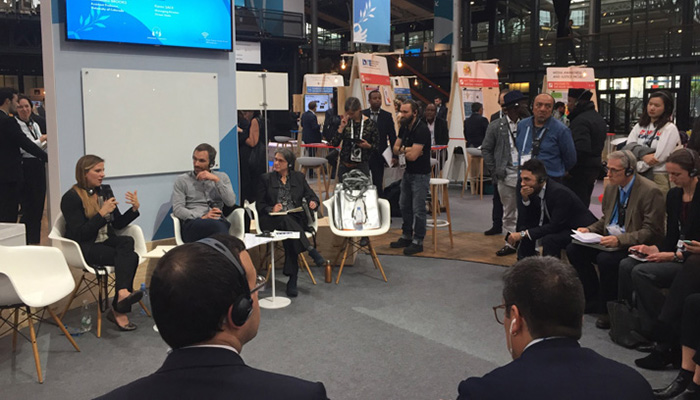 Cassandra Brooks Presenting at the Paris Peace Forum for the panel "Antarctica: Poster-child or sick man of multilateralism?" (photo credit: Mike Walker).
I went to Paris with a team from the project to make the case for Antarctica to continue being a place of diplomacy, peace, science and environmental protection. I talked about the incredible role that protected areas can play in enhancing resilience and for how marine protected areas themselves can be a tool for diplomacy. I saw in 2016 when, despite incredible geopolitical tension, Russia and the USA – along with the other states involved in the governance of the Southern Ocean – agreed to designate the world's largest marine protected area in the Ross Sea. This southern continent has always been a place where, despite diplomatic tensions on other parts of the world, we can find common ground.
As a testament to the importance of protecting the Antarctic marine global commons, Antarctica2020 was one of 10 projects selected from the 120 (from 850 applicants) for further support. I was immensely proud to participate in this inspiring inaugural event that will no doubt reverberate for years to come with its impacts on global governance.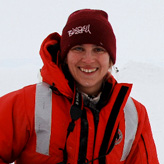 Cassandra Brooks, cassandra.brooks@colorado.edu
CSTPR Faculty Affiliate, Assistant Professor of Environmental Studies at University of Colorado at Boulder