S&T Opportunities
Gordon Research Conference on Science and Technology Policy
August 8-13, 2010
Waterville Valley Resort, NH
Chairs: Roger A. Pielke & Michele S. Garfinkel
Vice Chair: Susan Cozzens

The 2010 Gordon Conference on Science and Technology Policy will focus on a wide range of research at the intersection of science, technology, policy and society. The 2010 Conference will focus in particular on further developing partnerships between North American and European researchers. Invited speakers represent a variety of scientific disciplines in the policy sciences, social and natural sciences as well as the humanities. The Conference will bring together a collection of investigators who are at the forefront of their field, and will provide opportunities for junior scientists and graduate students to present their work in poster format and exchange ideas with leaders in the field. The collegial atmosphere of this Conference, with programmed discussion sessions as well as opportunities for informal gatherings in the afternoons and evenings, provides an avenue for scholars from different disciplines to brainstorm and promotes cross-disciplinary collaborations in the various research areas represented. More Information.
Application Deadline
Applications for this meeting must be submitted by July 18, 2010. Please apply early, as some meetings become oversubscribed (full) before this deadline. If the meeting is oversubscribed, it will be stated on the conference website. Applications will still be accepted for oversubscribed meetings. However, they will only be considered by the Conference Chair if more seats become available due to cancellations. Apply online.
Preliminary Program
A list of preliminary session topics and speakers is displayed below (discussion leaders are noted in italics). Please check back for updates at the GRC website.
The Big Issues in Science and Technology Policy Research
(Roger Pielke, Jr. / Daniel Sarewitz / Peter Weingart / Susan Cozzens)
STS and STP: Is There a Community or are There Communities?
(David Guston / Silke Beck / Mark Brown / Shobita Parthasarathy / Elizabeth McNie)
Science Policy Research and Science Policy Decisions Case Study: US Genetic Information Non-Discrimination Act
(Michele Garfinkel / Joann Boughman / Edward Ramos / Kevin Fitzgerald)
Comparative Perspectives on Science Technology Policy Research in US and EU
(Daniel Sarewitz / Steve Rayner / Jack Stilgoe / Laurent Bouchereau)
Case Study: Chemical Regulation in US and EU
(Gregory Nemet)
Science and Technology Policy Education: How are We Doing?
(Chuck Weiss / Jennifer Kuzma)
Politicization of Science: How Much of a Problem?
(Philip Campbell)
Science and Democracy: What Role for Science Policy Research?
(Per Koch / Nico Stehr)
The Future of Science and Technology Policy Research
(Susan Cozzens / Rachel Ankeny / Michele Garfinkel)
---
The Rightful Place of Science
Mission Palms Hotel | Tempe, Arizona
May 16-19, 2010
The Rightful Place of Science will address the challenges facing a society that is at once utterly dependent on science and technology and yet equally unprepared to govern the implications of that dependence. In his inaugural address, President Obama promised to "restore science to its rightful place" in U.S. society, but that location is far from obvious. How can we understand this provocative formulation in the context of the complexity, uncertainty, and political, social and cultural diversity that mark our world?
In this conference – amid art, music, literature, media, humor and more – we will explore the place of science in society and how science and technology can most effectively contribute to an improved quality of life for all. The transformative potential of science and technology challenges our ability to understand and shape our common destiny. What inquiries, communities, networks, and institutions can improve our ability to effectively engage this challenge?
The conference program will include a mix of:
keynote speakers to catalyze our thinking
"exemplars" of innovative approaches to managing the promises and complexities of science and technology
participant-led roundtables that will broaden our agenda
the next generation of scholars, decision makers, and communicators who will take our ideas forward
Among the outcomes of the conference will be a strengthened community of science and technology policy scholars and practitioners and a more developed research, education and outreach agenda to enhance linkages between scientific and technological research and beneficial societal outcomes – a well-centered place for science, in the midst of an engaged society.
For more information or to register see the conference website.
---
2010 Behavior, Energy & Climate Change Conference
November 14-17, 2010
Hyatt Regency Hotel, Sacramento, CA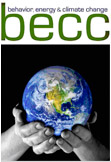 2010 Behavior, Energy & Climate Change (BECC) Conference is the fourth annual conference focused on the practical applications of social and behavioral research to achieve viable solutions to energy/climate challenges. It builds on the overwhelming success of previous BECC conferences at which 700 participants from universities, government, corporations and organizations discussed successful policy and program strategies, shared important research findings, and created dynamic new networks and collaborations.
BECC 2010 will include 45 topic/plenary sessions and over 200 presenters selected through a competitive abstract process and by special invitation. We seek abstracts for formal oral presentations, short highlight talks, and poster presentations. Deadline for abstracts is May 15, 2010. See website for details.
BECC 2010 is co-convened by the California Institute for Energy and Environment (University of California), the Precourt Energy Efficiency Center (Stanford University) and the American Council for an Energy-Efficiency Economy.