Ogmius exchange
Introduction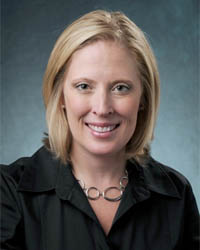 This edition of Ogmius features an article by the latest faculty member to join CSTPR, Deserai Anderson Crow. Deserai describes an international conference that she organized at CU-Boulder this fall. Deserai is an Assistant Professor in the Environmental Studies program at the University of Colorado Boulder. She is Associate Director of the Center for Environmental Journalism and became affiliated with the Center for Science & Technology Policy Research this past summer. She joined the faculty of the School of Journalism and Mass Communication in 2008 and moved to the Environmental Studies Program in 2012. She earned her Ph.D. from Duke University's Nicholas School of the Environment and Earth Sciences and a Masters of Public Administration from the University of Colorado at Denver's School of Public Affairs.
Her research interests include environmental policy and the role that mass media and other factors play in policy decisions. She is particularly interested in environmental issues in the western United States. Her current research includes studies on environmental reporting trends, communication in environmental policymaking, and stakeholder use of environmental messaging strategies. Her previous research focuses on the adoption of non-consumptive recreational water rights by Colorado communities and the factors that influenced policy change within these communities, including mass media, policy entrepreneurs, stakeholder group involvement, and citizen engagement.
After earning her B.S. in Journalism from the University of Colorado at Boulder, she worked as a broadcast reporter, anchor, and producer in Nebraska, West Virginia, California, Colorado Springs, and Denver. Read more about Deserai. Welcome Deserai!
Comments welcome! info@sciencepolicy.colorado.edu
---

INTERNATIONAL CONFERENCE ON CULTURE, POLITICS & CLIMATE CHANGE
by Deserai Anderson Crow

This fall almost 350 scholars representing over 20 countries converged on Boulder to explore the obstacles and opportunities confronting policy-makers with regard to climate policy. Deserai Crow organized the International Conference on Culture, Politics & Climate Change this September. The Center for Environmental Journalism sponsored the conference. The Cooperative Institute for Research in Environmental Sciences (CIRES) was also a major sponsor of the conference and CSTPR faculty member Max Boykoff served as an adviser for the conference.
Discussions about climate change, policy, and science arise in a variety of cultural settings. Questions of how and whether to address climate change on a national and global scale are significant parts of political and cultural discourse. How policy is made, the role of state and non-state actors, the communication of science and values, and how meaning is derived from our shared culture are all questions that directly influence policy outcomes. In the context of U.S. national elections and ongoing international climate negotiations, these considerations are especially relevant. The cross-disciplinary conference explored intersections between culture, politics, and science in order to enhance our understanding of public policy addressing climate change.
The conference emerged from a desire by faculty in several academic units at CU-Boulder to cross disciplinary boundaries and to address climate change in a manner not often done in research – by breaking down traditional barriers to meet colleagues confronting similar problems within different contexts. Some of the foremost scholars in fields such as Environmental Policy and Politics, Risk Communication, Visual Culture, Journalism Studies, Globalization and Spirituality, among others came to Boulder to present their research.
One of the primary lessons from the conference related to the importance of information as a central mechanism through which cultural values are expressed, politics and policy are played out, and solutions are found or blocked. Through the use, production, and consumption of information, the translation of values into political outcomes presents certain important areas for scholarly exploration from which important recommendations can be made to scientists, policymakers, and media. Professors Deserai Crow and Max Boykoff are working on a volume of papers from the conference focused on the theme of information as a force for shaping future climate policy and cultural values.
This collection of scholarship will present both critical and empirical essays designed to help us understand how we communicate about the climate, the effects of how we frame our discussions of climate, and the consequences for policymaking. Scholars in this volume analyze the approaches of environmental advocacy groups and mass media, and assess the use of information to build policy capacity in organizations. The book concludes with papers that push the body of climate research forward in new directions. By focusing specifically on the role of information – how we produce it, consume it, and make decisions based on it – we believe that the book will contribute to the growing body of scholarship that helps us understand and teach about the climate, specifically as it relates to human behaviors, knowledge, and decisions.
The book, titled "Culture, Politics and Climate Change: How Information Shapes our Common Future" is scheduled for publication in late 2013 or early 2014 with Routledge-Earthscan. You can visit the conference website to view archived presentations and conference information.
Deserai Anderson Crow, Ph.D.
Center for Science & Technology Policy Research
Center for Environmental Journalism
deserai.crow@colorado.edu