CENTER Events
Fall 2015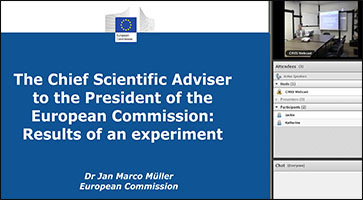 September 29, "Chief Scientific Adviser in the European Commission: Results of an Experiment" by Dr. Jan Marco Müller (CSTPR Noontime Seminar)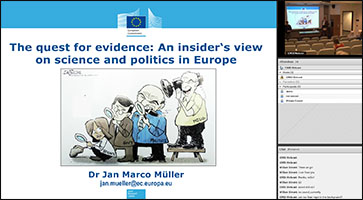 October 9, "The Quest for Evidence: An Insider's View on Science and Politics in Europe" by Dr. Jan Marco Müller (CIRES Distinguished Lecture)
November 18, "Colorado's Floods and Fires: Risk Mitigation and Disaster Recovery through a Policy Lens"
by Deserai Anderson Crow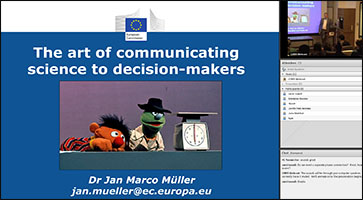 November 19, "The Art of Communicating Science to Decision-Makers" by Dr. Jan Marco Müller (cosponsored by FOSEP and INSTAAR)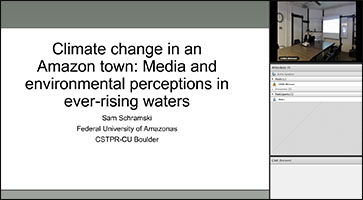 December 1, "Climate Change in an Amazon Town: Media and Environmental Perceptions in Ever-Rising Waters" by Sam Schramski (CSTPR Noontime Seminar)
Spring 2016

January 25, "Navigating Climate Change: Communication and cultural politics in the 21st Century" by Max Boykoff (ENVS Colloquium)
February 1, "The Lingering Value of Technological Artifacts: a Clog in the E-waste Stream" by Ben Hale (ENVS Colloquium)
February 3, "Climate Change from the Audience's Perspective" by Ines Lörcher, Institute for Journalism and Communication, University of Hamburg (CSTPR Noontime Seminar)
February 4, Panel Discussion: AAAS "Catalyzing Advocacy in Science and Engineering" Workshop Student Competition
March 4, "Coming to the Rescue? Tech Firms and the Harms of the Electronics Commodity Chain" by Lucy McAllister (CSTPR Noontime Seminar)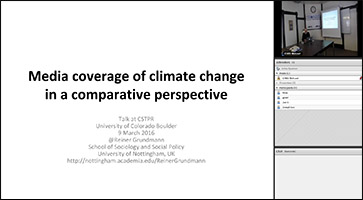 March 9, "Media Coverage of Climate Change in a Comparative Perspective" by Reiner Grundmann, Science and Technology Studies, University of Nottingham (CSTPR Noontime Seminar)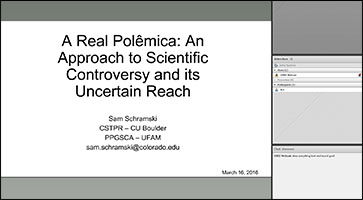 March 16, "A Real Polêmica: An Approach to Scientific Controversy and its Uncertain Reach" by Sam Schramksi (CSTPR Noontime Seminar)
March 17, "Standing Up for Climate: An Experiment with Creative Climate Comedy" Co-sponsored by Inside the Greenhouse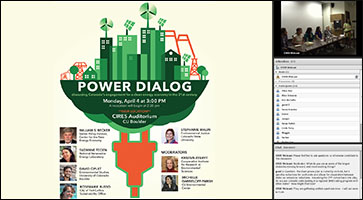 April 4, "Panel Discussion: Power Dialogue discussing Colorado's engagement for a clean energy economy in the 21st century"
April 7, "Communicating Plastic Pollution: The (conflicting) values of media producers, scientists & lay publics?" by Lesley Henderson (CSTPR Noontime Seminar)
April 19, Creative Climate Communications with Mike Nelson Chief Meteorologist, 7NEWS Weather Denver
Webcasts from many of these seminars and talks can be found here.
---
Comedy for Climate Change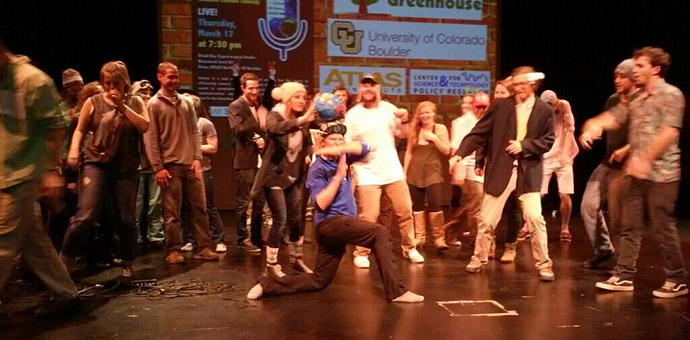 Students participating in Comedy for Climate Change event at University of Colorado Boulder on March 17, 2016.
Inside the Greenhouse held a competition to harness the powers of climate comedy through compelling, resonant and meaningful videos. This year's winners are:
• First Place: Heather Libby, "Weathergirl Goes Rogue"
• Second Place: Emmet Sheerin, Alan Whelan and Eoghan Rice, "Vote Joseph Bloggs"
• Third Place: Jeremy Hoffman, "The Sound of Skeptics"
The winning entries were shown during "Standing Up for Climate: An Experiment with Creative Climate Comedy" on March 17.
---
Max Boykoff Royal Society talk

On February 9, Max Boykoff gave a talk to the Royal Society, "How do we present the big issues in science both in New Zealand and overseas? What do we do well and what could we do better?" Royal Society, Wellington, New Zealand.
---
Max Boykoff International Festival of Environmental Communication Talk

On November 11, Max Boykoff gave a talk at the International Festival of Environmental Communication, Barcelona, Spain, "Climate Change and the Media."