Center News
Max Boykoff Releases Creative (Climate) Communications: Productive Pathways for Science, Policy and Society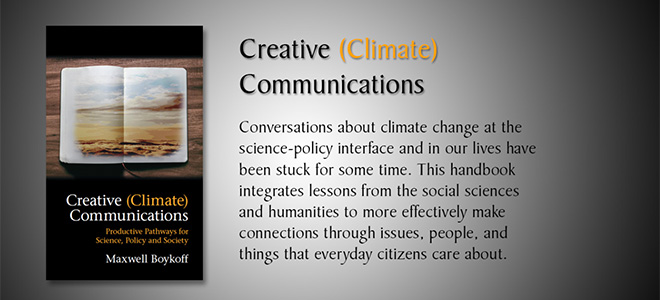 Cambridge University Press, 2019
Conversations about climate change at the science-policy interface and in our lives have been stuck for some time. This handbook integrates lessons from the social sciences and humanities to more effectively make connections through issues, people, and things that everyday citizens care about. Readers will come away with an enhanced understanding that there is no 'silver bullet' to communications about climate change; instead, a 'silver buckshot' approach is needed, where strategies effectively reach different audiences in different contexts. This tactic can then significantly improve efforts that seek meaningful, substantive, and sustained responses to contemporary climate challenges. It can also help to effectively recapture a common or middle ground on climate change in the public arena. Readers will come away with ideas on how to harness creativity to better understand what kinds of communications work where, when, why, and under what conditions in the twenty-first century.
"Max Boykoff deftly navigates the minefield of climate communication by providing a range of informed perspectives and insights into how to communicate the science and its implications. Creative (Climate) Communications is a great resource for practitioners and novices alike." - Michael E. Mann, Distinguished Professor, Penn State University and co-author of The Madhouse Effect
"Effective climate communication is an emerging area that has lacked an authoritative text – until now! This innovative, accessible book unites cutting-edge theory with practice. It synthesizes the peer-reviewed literature, existing approaches to effective climate communication, and representations of climate change in the media. If you're looking to be informed by the latest theory, research, and practice in climate engagement and outreach, this is a must-read." - Katharine Hayhoe, Texas Tech University
"This important book helps us to understand what works and what doesn't work in climate communication, and why. A must-read for anyone involved in this issue." - Naomi Oreskes, Harvard University
"[This book] implores us to be authentic, ambitious, accurate, imaginative and bold in climate communications and this book is just that. A great accomplishment!" - Susanne Moser, independent scholar and consultant
Founding CSTPR Director, Roger Pielke, Jr., Testifies at House Science Committee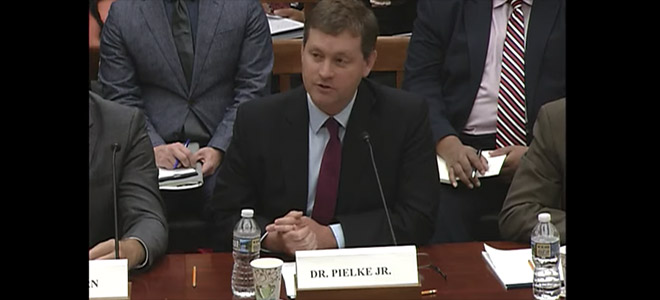 Founding CSTPR Director, Roger Pielke, Jr., testified before the House Science Committee hearing on Scientific Integrity in federal agencies.
His testimony focuses on the importance of scientific integrity policies within federal agencies that fund, conduct, or oversee research and the current status of these policies. In an appendix Pielke offers specific comments on H.R. 1709, the Scientific Integrity Act. His testimony is dedicated to the memory of Radford Byerly, Jr., 1936-2016, who was a staff member of the House Committee on Science, Space and Technology from 1978-1987 and from 1991-1993 served as the committee's staff director. The hearing can be viewed here.
CSTPR 2018 Annual Report is Released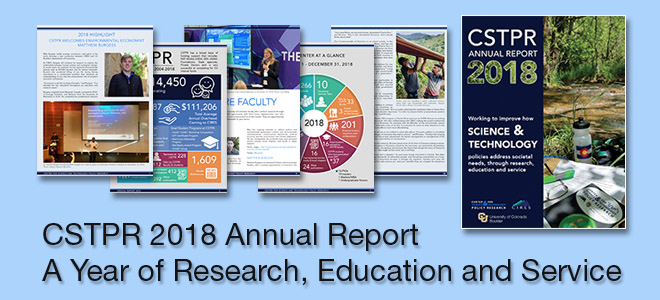 The CSTPR Annual report includes CSTPR highlights from 2018 as well as a complete list of activities. Also included are selected activities of CSTPR faculty affiliates as an indication (not exhaustive accounting) of what those affiliates engage in. Over the past sixteen years or so as a Center, we have cultivated a dynamic terrain of engagement. Among our activities and accomplishments, we have published over four hundred peer-reviewed articles, nearly another four hundred other reports and publications, and we have generated over $14 million in funding. We also have been referenced in the media over 1,600 times while we have delivered over 800 talks in the state of Colorado, around the country and throughout the world. The annual report is available online.
New International Research Project to Explore Climate Change Communication Through Social Media
Max Boykoff is collaborating on a new project funded from the Spanish Ministry of Science. The project "Communicating climate change through social media: Strategies, emotions and images" (CLIMAenREDES) will be conducted, from June 2019 to December 2021, by a group of 16 researchers from 10 universities in 7 countries. It will be coordinated by the Research Group on Science Communication of the University of Navarra (Spain), with Dr. Bienvenido León as principal investigator (PI) and Dr. María Carmen Erviti as associate PI. This project is sponsored by the Spanish Ministry of Science.
The other participating universities are: University of Colorado Boulder (US), University of Florida (US), University of Oxford(UK), University of Otago (N. Zealand), University of Porto (Portugal), University Miguel Hernández (Spain), University of Murcia (Spain), Gulf University for Science and Technology (Kuwait) and National Autonomous University of Mexico (Mexico).
This research project will analyze some trends of increasing importance to efficiently communicate climate change through social media, with a particular focus on the role of images and users' emotions. We start from the hypothesis that social media can play a very relevant role to communicate climate change, in a way that overcomes some of the traditional limitations of traditional media, thus facilitating citizen engagement and action to address climate change.
MeCCO Figure Used in Senate Speech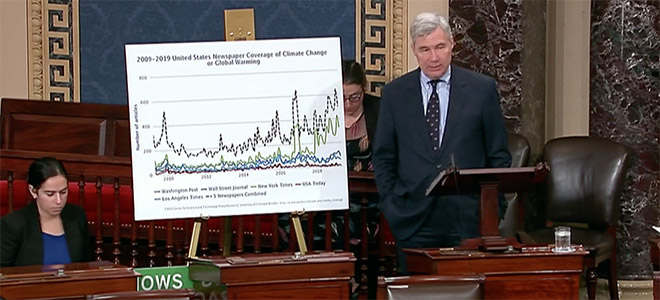 CCSTPR's Media and Climate Change Observatory work was recently used in Senator Sheldon Whitehouse's Senate floor speech on May 20, 2019 (around 9:50 in video). MeCCO currently monitors 96 sources (across newspapers, radio and TV) in 43 countries in seven different regions around the world. We assemble the data by accessing archives through the Lexis Nexis, Proquest and Factiva databases via the University of Colorado libraries.
Former Fulbright Scholar, Anna Kukkonen, Earns PhD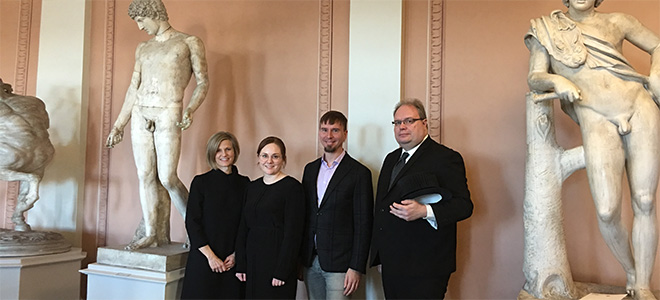 In 2018, Anna Kukkonen (second from the left in the picture above) was part of CSTPR as a visiting Fulbright Scholar from the University of Helsinki, Finland. She recently defended her thesis entitled "Discourse Networks and Justifications of Climate Change Policy. News Media Debates in Canada, the United States, Finland, France, Brazil, and India". Professor Tanya Heikkila from UC Denver served as an opponent in the defense. A post-doctoral party called "Karonkka", an old Finnish academic tradition, was held at a local restaurant in the honour of the opponent Heikkila. Congratulations, Anna!