Science Education is STEAM'N Along in a New Direction with the Emmy-Nominated Program Adventures in Science
by Spencer Zeigler
The CSTPR blog, Prometheus, was revived in 2016 to feature content from CSTPR core faculty, affiliates, postdocs, and visitors to serve as a resource for science and technology decision makers. This dynamism reflects the new energies and pursuits taking place in and around CSTPR. Below we feature one of the recent blog posts about the work of research affiliates Ryan Vachon and Dan Zietlow.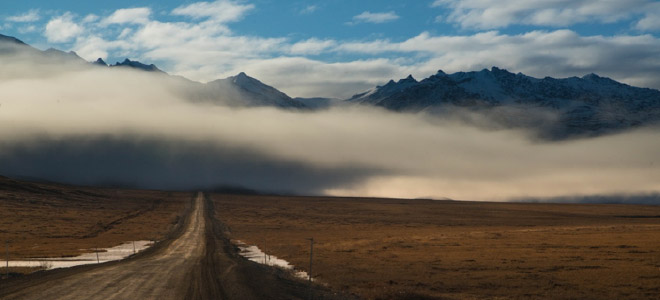 Do you remember when your teacher would roll out the gigantic TV and you would turn to your friends and whisper, "Yes! Movie day!"? Of course, because these were the days you got to watch a movie instead of doing worksheets. But to your chagrin, when the movie started it was almost more boring than regular class and you would just listen to a "dude in a lab coat pontificate" on and on about a subject that simply didn't matter to you. Fortunately, those days have changed thanks to Dan Zietlow and Ryan Vachon, the creators and founders of Provare Media (pronounced 'pro-vare-ay'), a film production company specializing in science communication and the effortless combination of art and science, whose program Adventures in Science was nominated for a 2018 regional Emmy award. Dan and Ryan both received their PhD's from the University of Colorado Boulder and are currently both CSTPR Research Affiliates.
Adventures in Science is Vachon's "pet project", a television series for youths, aimed at middle schoolers, ages 9-14. In 2014, Vachon worked with the Rocky Mountain PBS to create a pilot and it was nominated for an Emmy Award back in 2015, but PBS simply didn't have the bandwidth to support this project. After this set-back, Vachon let Adventures in Science take the back burner to other science outreach projects, but then, Zietlow came onto the scene.
Dan Zietlow who always had a passion for both science and art– double-majoring in physics and art history in undergraduate, found Vachon on the suggestion of a colleague of his who noted both his and Vachon's passion for science outreach and film-making. Zietlow reached out to Vachon, and they immediately became a powerful creative force. Together, they embody the concept of STEAM'N– Science, Technology, Engineering, Arts, Math, and Nature an acronym important to both of them as artists and scientists. With Zietlow at the head of photography, Vachon executive producing, and both acting as editors, Adventures in Science was brought back as a passion project.
Determined to make the show a reality, Vachon reached out to contacts at The University of Alaska Anchorage, where fellow University of Colorado alum Kathy Kelsey and Jeff Welker in ecosystem's biology were writing a proposal for the National Science Foundation (NSF) to study how the changing climate is affecting patterns in vegetation and what the knock-on effect of changing vegetation patterns are on migratory caribou. As with all NSF grants, a 'broader impacts' statement must be made. According to NSF director, France Córdova in a 2014 speech, the broader impacts statement's purpose is, "to engage the public in order to help improve the understanding of the value of basic research and why our projects are worthy of investment." Vachon, Zietlow and Welker saw the concept of Adventures in Science as the perfect project to fit into the broader impacts statement, so they were written into the grant. When the grant was successfully funded, Zietlow and Vachon had the chance to go to Alaska multiple times to film on the northern slopes and near the oil fields. Welker wanted films about this subject to be accessible to both adults and children, so Provare Media was tasked with making two films utilizing the same materials—a television series for youths entitled Adventures in Science and a documentary for adults, called Cloven.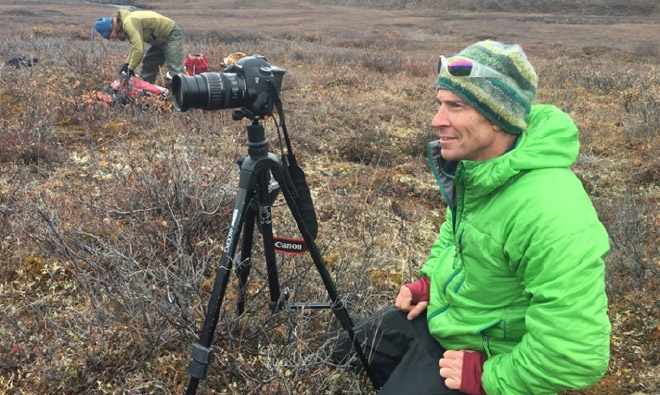 Cloven is a 20-minute documentary aimed at science-interested adults, which investigates the impacts of climate change on vegetation patterns and consequently, the impacts on caribou migration. It is more like a traditional documentary, where they follow and interview the scientists involved in the methodology of the experimentation. Vachon and Zietlow hope that this will encourage adults to think outside their personal expertise and perspectives and to help them understand that science isn't just a cerebral exercise but is something they can engage and interact with. This film is now submitted to the Banff, Whistler, Anchorage, Boulder International, and other film festivals for 2020. While the adult documentary is focused on understanding how scientists go about answering the questions about the interplay between climate change, vegetation, and migratory caribou, the youth-version of Adventures in Science will be about comprehending exactly what the question is and why we're asking it.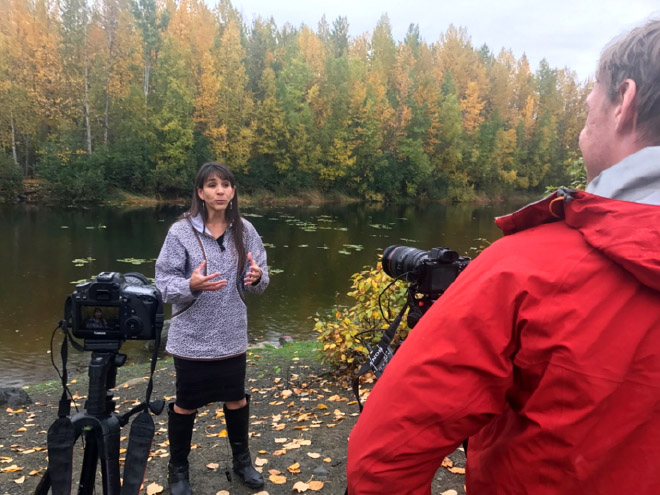 The pilot episode for the youths, Adventures in Science – How Caribou Survive Arctic Winters, is a 26-minute documentary-style show, filmed in Alaska, "designed for classroom use, informal use, and sparking that interest in science" according to Zietlow. Their work, although an artistic achievement in its own right, is also a monument to new tools in science education—such as 'peer-to-peer learning'. This is a unique idea in science education, and hinges on the idea that if "somebody who looks like you and is roughly the same age as you is exploring these things and asking these questions, you are much more likely to engage with that knowledge and be curious about it yourself", as Zietlow explained. To deploy peer-to-peer learning, Vachon and Zietlow recruited students from Broomfield Heights Middle School to act, explain concepts, and interact with the scientists in the documentary.
Zietlow wants watchers of Adventures in Science not just to learn the science, but to understand the importance of respecting the land around us, "We are stewards of this land, we need to take care of it, we need to understand it." There is an importance that cannot be neglected any longer in making youths aware of the fact that while we love nature, we also have an undeniable impact on it— like the idea that the devices we use every day come directly from and thus directly impact nature. Seamlessly weaving together science, policy, art, human elements of the communities impacted by climate change, and ideas of the 'human ecosystem' is something that Provare Media is intent on achieving. Vachon sums up the objective of Provare Media and Adventures in Science succinctly with, "Creating informed, but curious and empowered, decision-makers is our goal."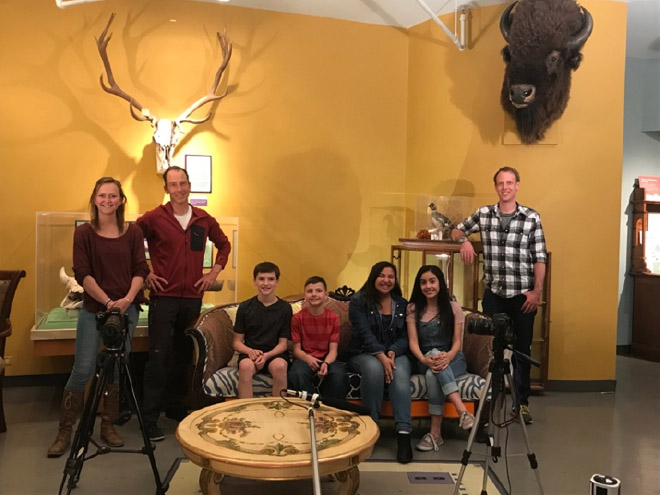 Provare Media is a new company, but its impacts are already far-reaching. PBS is interested in picking up Adventures in Science; How Caribou Survive Arctic Winters aired on select member stations, but many want it to be a series of four to five 30-minute episodes on a variety of subjects, not just a stand-alone episode. Vachon and Zietlow are in the midst of working to make this a reality and are "totally stoked" about reaching more people through both PBS and the word-of-mouth that comes with the Emmy Award nomination.
Provare is an Italian word meaning, 'to try', and that is what Provare Media is doing, "that's the vision we're working on, trying to communicate complexity in science and natural systems to different aspects of the public." Provare media is trying to influence both youths and adults already interested in science, but who may have a fear of science, to make them more powerful and involved policy-influencing citizens. Zietlow clarifies, "Science is nothing more than asking the question "Why?" and being curious to find the answer. That's all you have to do. You don't have to have a PhD or a Master's to do any of this, you just have to be curious about the world around you and we're trying to elicit that feeling in people."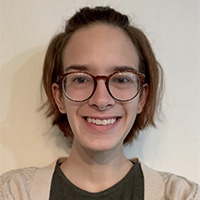 Spencer Zeigler
spencer.zeigler@colorado.edu
CSTPR Science Writer