An Interview with Dr. Cassandra Brooks

Cassandra Brooks is an Assistant Professor in Environmental Studies at the CU Boulder. She was recently selected as one of the science faculty on an upcoming #TeamHB4 #WomenInSTEMM leadership initiative in Antarctica. Originally published in Nature, June 2019.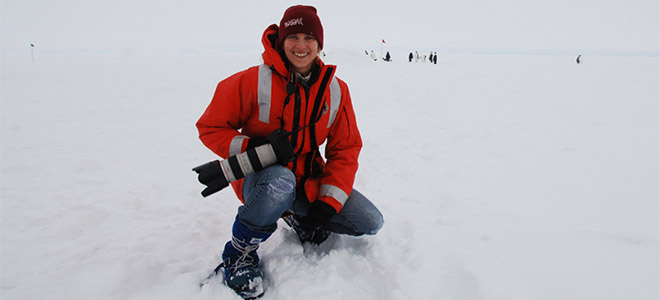 Please tell us about your research interests. Consumption, overexploitation, and the resulting environmental degradation threaten the long-term vitality of the resources upon which human societies depend. Based on hundreds of case studies, we know that human communities have the capacity to conserve their resources, particularly at the small to medium scale. Moreover, several conditions or processes have been shown to facilitate sound, equitable management of common pool resources. Despite such numerous local yet spatially constrained examples, how do we scale up these conceptual frameworks to apply to the global commons? Recognizing there are no panaceas, what are some of the essential socio-ecological conditions required for conserving our global commons? My research is driven by a desire to study and devise potential solutions for collective action to address environmental dilemmas. These issues are inherently interdisciplinary, and with my advanced degrees in Marine Science, Science Communications, and Environment and Resources, I draw from a diversity of fields and disciplines – including environmental governance, international relations, policy, law, conservation biology, and economics. By creatively using the most appropriate methodologies – both qualitative and quantitative – I compile and apply diverse datasets to address a suite of complex issues surrounding policy and management of global international commons.
I have a fierce passion for Antarctica, with the last fifteen years of my career focused on marine science and conservation in the region, especially marine protected areas (MPAs). I've participated in five Antarctic research cruises, studying diverse components of the ecosystem, from phytoplankton and krill to finfish and mammals. I've published on the life history of Antarctic toothfish—the top fish predator in the Southern Ocean that supports a lucrative international fishery. I've also been involved in extensive media projects, including the Last Ocean, in which we produced an award-winning documentary and a highly regarded book about the Ross Sea, Antarctica. I've been lead author on multiple MPA policy reports which focused on identifying key areas for inclusion in a representative network of Southern Ocean MPAs. I've also authored more than 150 popular articles, op-eds, book chapters, blogs and websites, many focused on Antarctic science and conservation. Most importantly for my work at the science-policy interface, I've spent the last eight years studying the process for adopting Antarctic MPAs. This work was the foundation for PhD at Stanford University and, along with my media and outreach work, helped drive the adoption of the world's largest marine protected area in the Ross Sea, Antarctica – one of healthiest and most productive marine ecosystems left on Earth.
I see that your education is in biology and marine science, but you also have worked quite a bit in science communications and policy outreach. What has your journey been to this point? I am an intensely curious person with a passion for the environment, especially the ocean, which drove me to pursue science. For me, a career in science has been a life of endlessly turning over rocks to discover, with delight, what lives underneath. Yet I was never satisfied with the scientific process in isolation. I wanted to show and teach the public about the beauty of the natural world. Even more so, as I learned that everything I loved and studied – from my back yard in New England to the reaches of Antarctica – was immensely threatened, I was desperate to drive conservation solutions.
My journey has centered around science, outreach and policy – often working within these worlds simultaneously. I completed a BS in Biology at Bates College in Maine and during that time I worked in labs across campus while completing a summer Environmental Education internship at the New England Aquarium. I also spent a summer at Shoals marine lab and conducting summer research at the Mount Desert Biological Lab and Virginia Institute of Marine Science. After college I spent three years working in Environmental Education as a wilderness therapy guide working across the United States for Outward Bound, Summit Achievement and Naturalists at Large. In the midst of these largely seasonal jobs, I also toiled as a federal fisheries observer on New England groundfish boats. Seeing how poorly managed fisheries are, particularly deep-sea fisheries drove me to return to school for a masters in Marine Science at Moss Landing Marine Labs in California. There I studied the life history of Patagonian and Antarctic Toothfish (sold as Chilean Sea Bass). The research itself was a direct call from managers within the Commission for the Conservation of Antarctic Marine Living Resources (CCAMLR – the international body that governs the waters around Antarctica) to gain more life history information on these species which were supporting a growing commercial fishery in the Antarctic.
I'll never forget my first research trip to Antarctica in 2005. The wind whipping across from the icy Antarctic continent, icebergs scattering the horizon and me donning a thick orange coat to brace the elements. I remember finishing a 12-hour shift on deck sampling Antarctic fish, including the Antarctic toothfish, the top fish predator of the Southern Ocean. I watched as night fell and unfamiliar stars peppered the thick dark sky. I remember hearing a brisk exhale off the side of the boat and the wet scent of krill hitting my face. I peered to see a humpback whale breaking the surface, swimming in parallel just a few feet from our vessel. I had never felt so alive, so small and so inspired and humbled. Nor have I ever felt such a visceral compulsion to protect a place.
I had worked in and studied fisheries for many years of my adult life, but only when I made the exhaustive trek into the ice-choked waters around Antarctica did I realize the severity of the problem. It was hard to believe that fishermen would travel so far – into the most treacherous waters on Earth – in search of fish. But then I remembered scrambling on the deck of New England groundfish boats as a fisheries observer, gathering measurements from the pathetically small catch, while fishermen relayed stories of hauling in cod larger than me. We have depleted our fisheries closest to home and have had to cast our lines ever deeper and further to find new fish stocks, but we now have nowhere else to go. The Antarctic toothfish that I was studying supports the Earth's most remote fishery. And the more I studied, the more obvious it became that this species, like most deep-sea fish, was incredibly vulnerable to overexploitation.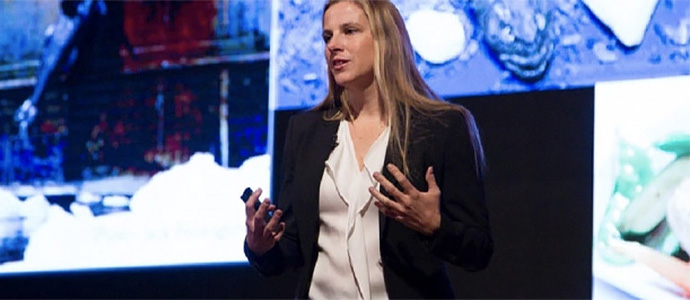 In 2008, I stood before my master's defense committee making a case for a Ross Sea marine protected area (MPA). Current management allowed fishing on their purported spawning grounds and didn't take into account the overall impact on the greater Ross Sea ecosystem. A marine reserve, which excluded fishing from critical life history areas, seemed an obvious solution. But my committee scoffed at the idea. As an international space, an MPA in the Antarctic would require the consensus of more than two-dozen nations – a seemingly impossible feat. What my professors didn't know (and what I would later learn) was that closed-door discussions were already underway developing plans for a network of MPAs across the Southern Ocean.
Later that year, I received a call from a prominent conservation photographer, "We need to talk about toothfish," he said. He, along with a renowned Antarctic scientist, had been partially responsible for jumpstarting the MPA discussions within CCAMLR, particularly around the Ross Sea, a region deemed by many to be the last intact marine ecosystem left on the planet. They wanted my help in pushing the MPAs forward. I jumped on board their grand outreach effort, which we called The Last Ocean. We worked to generate the support of hundreds of scientists, developed an in-depth website, published academic and popular articles, a critically acclaimed book, created curriculum for school children, and traveled to New Zealand (where the largest Antarctic toothfish fishery is based) to help produce an award winning documentary film. Working with environmental non-profits from all over the world, we generated policy reports, translating complex Antarctic science into policy recommendations. Then we worked to put it all before the decision-makers at CCAMLR. By 2012, a Ross Sea MPA, what I had been told was impossible, was actually on the table of CCAMLR.
By then, I was beginning to realize that good science and effective media were not sufficient to generate sound policy, and I returned to school for a PhD at Stanford University to study the Southern Ocean MPA policy process directly. I gained access to high-level international policy meetings, approaching the research as a case study. I gained expertise in qualitative methods, international relations, environmental governance, economics and the science-policy interface. I analyzed a policy process as it unfolded in real time and learned to appreciate the complex suite of factors that drive policy development and implementation including the role of science, the influence of media, the constraints of state interests, and the power of industry. My grounding in science has also allowed me to analyze the extent to which the policies being proposed would reach their stated management and conservation goals.
In late October of 2016, just three weeks before I defended my PhD, I witnessed what many had said was impossible – the adoption of an extensive 1.55 million km-2 MPA in the Ross Sea, Antarctica. This moment changed my life. Conservation – even at immense international scales is possible. This feat cannot be understated. It was the culmination of the dogged efforts of hundreds of scientists, thousands of conservationists, and millions of global citizens over the course of more than a decade. We took one of our most productive and healthy stretches of ocean and protected it for the future. In my current research, I continue to study the MPA process in the Southern Ocean. As a global community, we have so much to learn from the case of the Ross Sea. And we have so many other areas of the world in critical need of protection.
Can you speak to any challenges that you had to overcome? Being an interdisciplinary scientist has been an immense challenge. I have struggled at times to define who I am, to describe my work and to find my place in the professional world. I have had professionals tell me: "you are not an expert" when I tried to put my own voice out in the world. Getting a PhD helped establish me as an expert, but in what? I surprise my colleagues by continuing to publish on quantitative fish life history, while also publishing qualitative case studies on Antarctic governance or commentaries on the science-policy process. I continue to publish popular articles on a variety of environmental and science blogs. I work in marine conservation and environmental governance. To do so, I am a marine scientist, a policy expert, a social scientist, a conservationist and a communicator. Our global environmental problems span all disciplinary and political boundaries; our solutions, research, and professional activities must as well.
What advice would you give your younger self? I grew up in a small town in rural New England with a large family and nature as my playground which was a profoundly wonderful experience. I had so much energy and passion, but was a bit scattered. Like many young professional women, I had no confidence. I wanted to do great things in the world, but I didn't believe I necessarily would. Somewhere in my mid-thirties (and in my PhD) I finally felt strong and confident enough to speak up for myself and really put my voice out in the world. The advice I wish I could give my younger self – and really all young women professionals coming up in the world – is to follow your passion and believe your voice matters. We all have unique perspectives and experiences to offer the world. Integrity is more important than expertise. We need you out there fighting for your future and future generations.
What are your predictions for your field in the near future (e.g., are there some really pressing questions that need to be addressed)? The future predications about environmental resources and biodiversity, including in the marine realm and Antarctica is dire. We certainly need continued research on our marine systems, including in the Antarctic. Our global community can learn from studies on best practices for conservation and sustainable use across scales and resources (for example the case of the Ross Sea). What drives communities to conserve rather than overexploit? How can we, as a global community, stop the degradation of the earth systems? How can we more intimately understand our visceral dependence on these natural systems? How can we see ourselves as part of, rather than in dominance of, the natural world?
Our survival depends ultimately not on conducting more research, but on human action, immediately. I believe we have a lot to learn from E.O. Wilson's Half-Earth Project which demands that we must protect at least half of the Earth's biosphere so conserve global biodiversity, which Wilson insists is necessary for our own human survival. My hope is that we, as professional scientists, listen to and support wise elders like Wilson and the future generation, like Greta Thunberg. My experiences in the Antarctic, especially after witnessing the grand protection of the Ross Sea, have shown me that diverse communities can come together to make decisions that benefit the future. I truly believe, we as a global community, can do the same and can prevent the loss of global biodiversity, the degradation of the biosphere and halt climate change. We cannot afford not to.