2020 Radford Byerly, Jr. Award
in Science and Technology Policy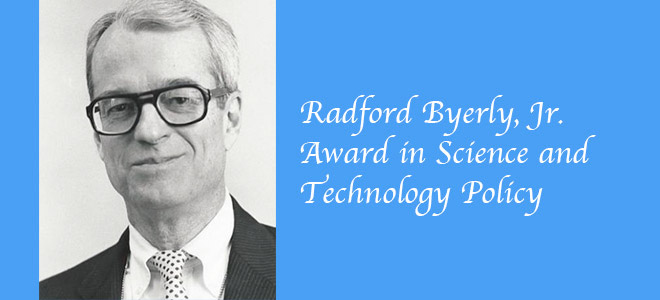 CSTPR is offering a $1500 award to an eligible CU-Boulder student
Application Deadline is December 4, 2019
This award is named in honor of Rad Byerly, who earned a B.A. and M.A. in physics at Williams College, and a Ph.D. in physics at Rice University. After several years in laboratory research as a postdoctoral fellow at the Joint Institute for Laboratory Astrophysics (JILA), at CU-Boulder, Rad moved to Washington, D.C., for a long career in science policy. He served more than twenty years as staff on the Science Committee of the U.S. House of Representatives, ultimately as staff director to Chairman George E. Brown (D-CA) who believed, as did Rad, that government-funded scientific research had a duty to serve society and its citizens as well as to expand knowledge of the natural world. In the late 1980s Rad also directed the Center for Space and Geosciences Policy at CU-Boulder, and at the end of his career, delighted in mentoring and working with graduate students at CSTPR/CIRES as they grappled with problems of science, politics, and public policy.
Award Eligibility
Applicants must be full-time, CU-Boulder campus, degree-seeking graduate students in good standing in any academic department.
Award Criteria
A commitment to making a significant contribution to science and technology policy through a career in academia; state, local, or federal government service; the private sector; voluntary organizations; journalism and the media; or some other form of public service that advances the role of science and technology in service to society.

Demonstrated potential for such contributions through publications, community outreach and organization, or paid and/or voluntary employment either on or off campus.

High academic achievement.
Application Process
Applicants shall submit a two-page statement describing how they meet the criteria for the award; an unofficial academic transcript; CV; and one letter of recommendation by midnight December 4, 2019 to ami.nacu-schmidt@colorado.edu. The award will be distributed January 2020.
The award recipient is expected to make one presentation in CSTPR's noontime seminar series on a topic of choice and write one article for the CSTPR blog, Prometheus in Fall 2020.
Applicants will be notified by December 18, 2019
Award Winners

2020: Diana Dorman (Environmental Studies Program, University of Colorado Boulder)

Diana Dorman is a Ph.D. student in the Environmental Studies Program at the University of Colorado-Boulder. Her research interests focus on the intersection of equitable energy access, international climate institutions, and development studies. Before coming to CU, Diana worked in several nonprofit organizations including in Malaysia on issues of sustainability and social justice in the palm oil industry, in Nevada on renewable energy at the state legislature, and in Lake Tahoe on fundraising and environmental project management. Diana completed her M.S. in Environmental Studies in 2019 at CU Boulder where her thesis investigated the funding trends of energy projects and related policy linkages within the Green Climate Fund, the newest climate finance mechanism under the United Nations Framework Convention on Climate Change. She holds a B.A. in International Affairs and B.S. in Environmental Science from the University of Nevada, Reno.

2019: Patrick Chandler (Environmental Studies Program, University of Colorado Boulder)

Patrick Chandler is a graduate student in the Environmental Studies Program at the University of Colorado, Boulder. His research is focused on the methodologies and impacts of combining art and science to communicate about environmental issues, and he hopes to publish a guide for communities and organizations on that subject. Patrick also works as an Education Consultant for the Washed Ashore Project and has ten years' experience developing environmental education, stewardship, and science programs including curricula. Previously, Patrick served as the International Coastal Cleanup Coordinator for Alaska and was the Special Programs Coordinator for the Center for Alaskan Coastal Studies.

2018: Angela Boag (Environmental Studies Program, University of Colorado Boulder)

Angela Boag is a PhD Candidate at the University of Colorado Boulder investigating the relationships between climate change, forest management and land ownership. She has a Master's in Forestry from the University of British Columbia and serves as Co-Chair of the Ecosystem-based Adaptation and Mitigation Thematic Group of the International Union for Conservation of Nature (IUCN). As a member of the Communities and Forests in Oregon research project led by Dr. Joel Hartter, Angela studies how changing climate and wildfire regimes impact forest resilience, as well as how private forest owners adapt to changing conditions.

2017: Lauren Gifford (Geography, University of Colorado Boulder)

Lauren Gifford is a PhD candidate in Geography at CU Boulder. Her research explores the intersection of global climate change policy, conservation, markets and justice. Her dissertation asks how, and by whom, climate and conservation policies are enacted– with a focus on forest carbon offset development in Maine and Peru. She is an appointed member of the City of Boulder's Human Relations Commission, is a long-time environmental justice advocate, and has been an active participant in the United Nations climate change negotiation process. She holds an MA in Environmental Studies from Dartmouth College and a BA in Communications from American University.