notes from the field
These field notes are personal views and do not necessarily reflect the views of Red Cross/Red Crescent Climate Centre
Katie Chambers
Ethiopia
June - August, 2017
From Addis to Adama - Laying the Ground for this Summer's Fieldwork
June 29, 2017
View photo gallery for more photos from the field by Katie Chambers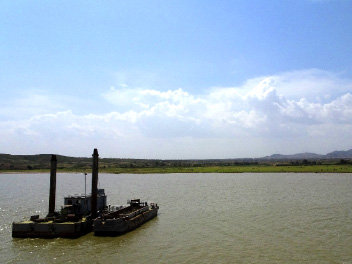 View from Koka Dam.
My first week of fieldwork brought me out of Addis Ababa for the first time this summer. The field site – Koka Dam and its surrounding communities – is located about two hours outside of Addis by car. The landscape outside Addis changes quickly and dramatically from urban to rural, with farms lining the highway as far as the eye can see. It was refreshing to escape the city's business, and driving through the countryside to Koka Dam was beautiful.
My first day of fieldwork began with an introduction to the Ethiopian Red Cross Society branch office in Adama. I met with the branch officer, Buseri, to plan logistics for the visit and future work. From there we drove to Koka Dam to tour the facilities and meet the dam manager. I thought the visit would just consist of meeting the manager and walking around the dam's perimeter, but was pleasantly surprised when I received a personal tour of the dam's inner workings. As large machinery surrounded me and turbines spun loudly, the little engineer inside of me was giddy with excitement at my first visit inside a hydroelectric dam and its control room. The dam has staff working 24/7 to maintain and control the infrastructure, and it was incredible seeing it all come together inside. Even better, the manager was equally as enthusiastic to talk about how the dam infrastructure works as I was able to listen. Luckily, my background in civil and environmental engineering allowed the discussion to progress beyond simply describing how dams work to nitty gritty technical details of daily operations. Following the tour inside the dam, we walked the perimeter of the dam and viewed it from the outside. Seeing the dam in person, as opposed to on the computer, was impressive and helped me better visualize the scope of the project and modelling.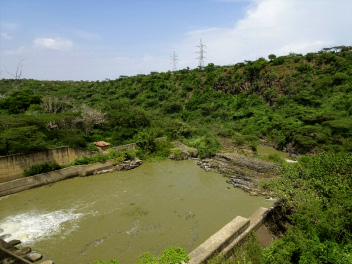 Koka Dam spillway, where water exits and flows to downstream communities.
The next day I talked to members from two communities situated around the dam. The initial interviews were with a small group of members, allowing me to scope the project and learn about the interactions between community members, dam staff members, and the infrastructure itself. This baseline information, in conjunction with Red Cross staff and frameworks, will guide the development of the surveys and interview scripts used in subsequent visits with the communities. The first field visit was successful in scoping the project's extent and setting the stage for future visits, and I'm looking forward to future fieldwork around Koka Dam.