notes from the field
These field notes are personal views and do not necessarily reflect the views of Red Cross/Red Crescent Climate Centre
Katie Chambers
Ethiopia
June - August, 2017
Following the Flood: Evaluating the Vulnerabilities of Communities Along the Awash River
July 14, 2017
View photo gallery for more photos from the field by Katie Chambers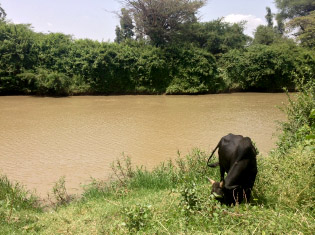 Grazing alongside Awash River.
Research has taken me down and across Awash River here in Ethiopia, going further down the river each day to reach new study areas. It has quickly become a landmark, and with each new community visited, the river is located to help with orientation. Flooding in the Awash River Basin is extensive and sometimes overwhelming, with the local Red Cross branch responding to over 500 flood-affected communities just this year. The current scope of the study focuses on communities bordering Awash River, with seven communities, a resort, and a government-owned sugar factory visited to-date. Each is affected by an annual flood event in the summer, with some affected by flash floods in May this year.
Inundation of agricultural land was reported as the most common negative effect of flooding. In most communities, farmland in flood-prone areas is not cultivated during the summer months. Farmers uniformly expressed a desire to farm year-round, noting that they could perform an additional harvest if flooding were not a problem. Additionally, speaking with representatives from Sodere Resort and Wonji Sugar Factory brought a unique dimension to the work. Sodere Resort is affected by annual flooding, which typically damages riverside rooms. Resort staff are notified about when these events will occur in advance, and move property (e.g., refrigerators, televisions) from vulnerable rooms to avoid property damage. This year, flash floods unexpectedly hit the resort in May which caused over $12M birr ($520,000 USD) in damage. Wonji Sugar Factory also suffers from annual flooding, and each year they relocate some of the 35,000 people living within their borders when flooding is predicted. It was interesting to include the mixture of different stakeholders downstream of Koka, and highlighted the need to tailor warning systems to their individual needs.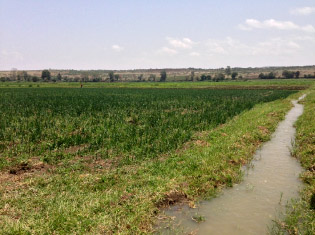 One of the farms visited during fieldwork.
The early warning systems currently in place only notify communities of controlled releases from the Koka Dam. As reported by several community members, the releases themselves are not the sole cause of flooding. However, they often coincide with heavy precipitation events, and the combination of the two contributes to the flooding. As one community member put it "when there is high rainfall, Koka gets full and must release water." Here enters my work, in partnership with the Climate Centre, in answering one of the many questions this project raises:
Can early releases from the Koka Dam, using predicted rain from weather forecasts, be used to minimize flooding in downstream communities?