notes from the field
These field notes are personal views and do not necessarily reflect the views of Red Cross/Red Crescent Climate Centre
Arielle Tozier de la Poterie
Soroti, Uganda
May 22 – August 11
May 21, 2013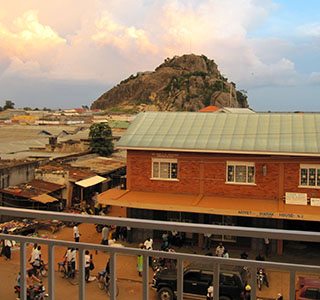 My name is Arielle, and I will be based in Soroti Uganda for the summer as part of the partnership between the Red Cross Red Crescent Climate Center and University of Colorado, Boulder. I will be working on a pilot program initiated by the Climate Center the Uganda Red Cross and the German Red Cross that will test the use of forecasts to trigger anticipatory humanitarian action. At present, humanitarian organizations must wait until disaster has struck to solicit funds and initiate drought or flood responses. Supplies can take days or weeks to reach needy populations. This project has set up a preparedness fund that will allow the Ugandan Red Cross to access funds and take action based on seasonal climate forecasts. Potential actions range from prepositioning supplies in regional and local warehouses for faster distribution to affected populations to encouraging farmers to plant crops suited to predicted precipitation levels. The six year project will take place in the Teso and Karamoja regions of Uganda, and, if successful, could be expanded to other countries.
In general, forecasts occur on three timescales. Long-range forecasts project shifts associated with climate change that may occur over many decades. Seasonal forecasts predict weather patterns up to three months in advance. Short-term forecasts have the greatest predictive skill, and provide information on potential precipitation from ten days to only hours in advance. The project in Uganda emphasizes the application of seasonal forecasts, but the Red Cross may also be able to improve their response through greater attention to ten-day and shorter forecasts.
During my stay in Uganda I will be traveling throughout Teso and Karamoja. Teso is swampy and subject to flooding and water-logging during the dry season, whereas Karamoja is higher and drier. People in the latter region have only recently shifted from pastoralist lifestyles to agriculture leaving them more susceptible to variable precipitation. At first, I will be helping to gather and analyze baseline data from the communities to ensure that the information being collected will be useful and sufficient for later analyses. I will also help conduct vulnerability and capacity assessments in an attempt to understand and record existing hazards and coping strategies. This baseline data will be important for determining project outcomes and for identifying possible responses to climate forecasts. Along the way, I will be collecting information on local forecasts techniques and the responses, as it is important to understand how forecasts might complement or conflict with local knowledge and power structures. Context is important because social, political, and economic factors have been shown to constrain the use of forecasts. There is ample evidence that more and better information is not necessarily sufficient for changing behavior and improving outcomes.
I've spent the last day and a half in meetings Erin Coughlan at the Red Cross Red Crescent Climate Center in New York. In addition to hearing more about the project, I learned a new participatory game, which I will be teaching to volunteer facilitators in Uganda. The game is designed to help community members construct a timeline of disasters in their community. Using string, paper, and tape groups describe and compare their memories of past events and their impacts. This information will be recorded by volunteers, and the Climate Center hopes to compare community memory of past events to forecast records to get a better sense of how forecasts at different timescales actually correlate to specific disasters.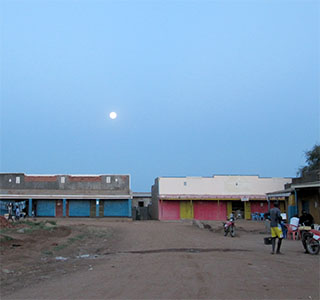 Such comparisons might help to determine which forecasts (seasonal or short-term) are likely to yield the best results if used for anticipatory action. The Climate Center has also developed games on health and mosquito management, agricultural cropping strategies, and how to interpret probabilities. For more on the games, click here.
I leave New York in a few hours. After a day in Kampala I'll fly on a missionary plane to Kotido in Karamoja to meeting with project leaders and visit several communities. From there, I will go to Soroti and discover my temporary home. Since learning of my placement, I've heard nothing but wonderful things about the Ugandan people and the country's beauty. My favorite thing about conducting my Master's research in Nicaragua was visiting rural communities, hearing people's stories, and learning about their lives. I feel extremely fortunate to have the chance to explore a new area of the world and meet more fantastic people. Thank you for this wonderful opportunity!
Top photo: Kotido, Uganda
Bottom photo: Soroti, Uganda