S&T News
Free Online Course: Water in the Western United States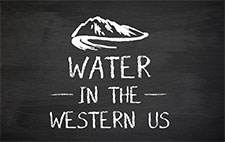 Eric Gordon from the Western Water Assessment and Anne Gold from the Cooperative Institute for Research in Environmental Sciences (CIRES) are co-teaching a free online course entitled "Water in the Western United States." This college-level course is available by clicking here and provides a broad overview of the history of water development in the region and relevant hydrology and climatology. Registration is available now; the course will run from April 1 through May 1.
---
S&T Opportunities
College of William & Mary Mellon Postdoctoral Fellow in Environment Science and Policy
The Department of Environmental Science & Policy and the Socionatural Tick-Borne Disease Research Group at the College of William and Mary invites applications for a two-year postdoctoral fellow position that will begin August 10, 2015. We seek an individual with expertise in political ecology that is interested in examining the political and economic dynamics surrounding land use change and tick-borne disease. Candidates should have a Ph.D. in Sociology, Geography, Environmental Studies, or a related discipline. Candidates should have the ability to do spatial analysis using GIS software and/or ethnographic interview based research. A familiarity with social scientific theories on (sub-)urban growth, neoliberalization, and/or financialization are highly desirable. Joining an interdisciplinary team of social and natural scientists, the fellow should also be willing to take part in ecological fieldwork and work in a lab extracting and analyzing tick DNA. A Ph.D. is required at the time appointment begins (August 10, 2015). Candidates must apply online. Submit a curriculum vitae and a cover letter detailing your interest in the position and relevant qualifications and research experience. You will be prompted to submit online the names and email addresses of three potential references. For full consideration, submit application materials by the review date, April 8, 2015. Questions about the position should be directed to Brent Z. Kaup (bzkaup@wm.edu).
USAID Research and Innovation Fellowships
The USAID Research and Innovation Fellowships aim to build a sustainable model for knowledge exchange by connecting bright American minds with key in-country organizations to collaboratively apply science, technology, and innovation to complex development challenges. The Fellowships offer unique opportunities for Fellows to provide critical research and technical expertise to exciting, progressive projects and initiatives with tangible and finite goals. Additionally, the Fellowships allow for complementary program design, incorporating the needs of the host organization within the scope of the Fellows' existing studies and research. As part of the Research and Innovation Fellowships program, USAID partners with the U.S. National Science Foundation (NSF) and six universitiy partners to foster stronger human networks and improve sharing of organizational best practices under the umbrella of science, technology, and innovation for stronger development.
To become involved in the Research and Innovation Fellowships or for additional information, please contact RIFellowships@usaid.gov. More Information.