Center Talks and Events
The Center's fall noontime seminar series has been completed. Most of the talks can be viewed here.
September 7, 2016
Webcast | View Presentation Slides
Collaborating for System Change: Learning Networks for City Resilience, Wildfire Protection, Climate Adaptation, and Impactful Science by Bruce Goldstein and the Collaborative Learning Networks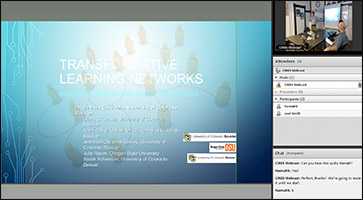 September 28, 2016
AAAS "Catalyzing Advocacy in Science and Engineering" Workshop Student Competition Panel Discussion
Angela Boag, CU Boulder Environmental Studies
Nicholas Valcourt, CU Boulder Civil Systems Engineering
Sarah Welsh-Huggins, CU Boulder Civil, Architectural, and Environmental Engineering
Abby Benson (moderator), CU Aerospace Ventures

(Cosponsored by the Forum on Science Ethics and Policy)
October 12, 2016
Webcast | View Presentation Slides
EU Space Policy by Augusto González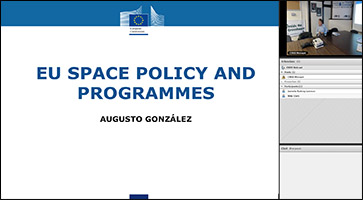 October 19, 2016
Webcast | View Presentation Slides
Student Expertise and the Legislative Process by Jeffrey Zax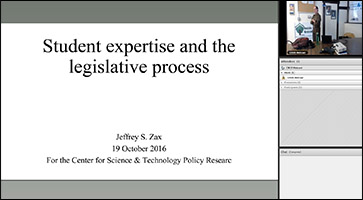 October 26, 2016
Webcast | View Presentation Slides
Collaboration in Energy and Materials Sustainability by Alan Hurd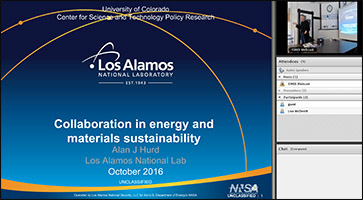 The Spring 2017 schedule (with tentative dates) will feature talks by:
Jessica M. Smith, Assistant Professor, Liberal Arts and International Studies, Colorado School of Mines (CSTPR Faculty Affiliate) - January 25
Elizabeth McNie, Western Water Assessment (CSTPR Alumni and current CSTPR Research Affiliate) - February 8
Deserai Crow, Associate Professor, School of Public Affairs, University of Colorado Denver (former CSTPR Core Faculty member and current CSTPR Faculty Affiliate) - February 15
Julia Schubert, Research Associate, the Forum Internationale Wissenschaft, Bonn, Germany (currently visiting CSTPR on a PhD Fulbright Fellowship) - February 22
Jason Delborne, Associate Professor of Science, Policy, and Society, North Carolina State (CSTPR Faculty Affiliate) - March 8
Justin Farrell, Assistant Professor of Sociology, Yale University (current CIRES Sabbatical Visitor sitting at CSTPR) - March 15
Jack Stilgoe, Senior Lecturer, Department of Science and Technology Studies, University College London (spending his sabbatical at CSTPR) - March 22
Kathleen Hancock, Associate Professor, Colorado School of Mines - April 12
Sierra Gladfelter, MA Student, Geography Department, University of Colorado Boulder (recent Red Cross/Red Crescent Internship Program intern) - April 26

Check back here for the full schedule including titles, abstracts, bios, and webcast information.