Prometheus 2.0 and Our Common Future
by Max Boykoff, CSTPR Director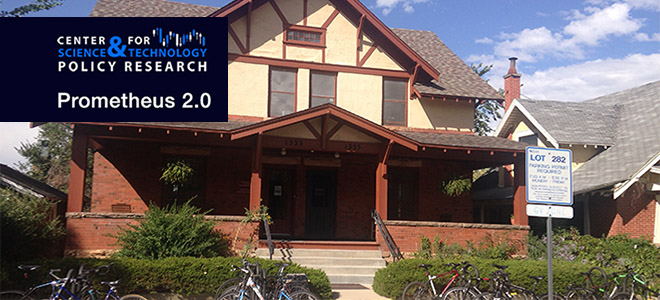 We here in the Center for Science and Technology Policy Research (CSTPR) recognize that we are in both urgent and opportune times. Science, technology, and policy issues are as pressing, dynamically changing and important as ever.
As evidence of this, former White House Office of Science and Technology Policy (OSTP) Director and Science Advisor (1998-2001) Neal Lane recently issued a strong call to the next U.S. President to place 'laser focus' on science and technology policy.
In making five clear recommendations for both the next U.S. president and the next U.S. president's science advisor, Lane appealed to the successor to Obama. He said, "considering the many policy challenges that relate to science and technology and the accelerating pace of scientific discovery and technology innovation across the globe, it is critically important that the president move quickly to appoint the science adviser and organize a capable OSTP that can begin to engage the many executive departments and agencies that support R&D and rely on advances in science and technology to carry out their missions."
This is a critical juncture in our history. More now than ever there is tremendous need for honest brokers like CSTPR at the University of Colorado Boulder who can develop, maintain and continue active collaborations so that scientific work finds traction in political, cultural and social arenas.
While intertwined challenges proliferate, we in CSTPR press ahead through our collective capacity to pursue research, teaching and service projects to confront the urgent needs to improve our understandings of how the quality of decision-making can catalyze and enhance webs of interaction between science, technology, politics, policy and society.
Going forward, through this re-energized Prometheus blog (call it 'Prometheus 2.0' if you will), we will profile a number of these research endeavors, initiatives and commitments as we work to help a range of audiences, stakeholders and user groups make sense of the dimensions of science and technology policy that coarse through the veins of our shared social body.
Contemporary demands are such that science-technology-policy research is vital to understanding and improving how scientific ways of knowing can be more readily 'usable' for wider communities of researchers, practitioners and everyday people. Watch this space.