Navigating With Intention: CSTPR Alumna Bets McNie Talks About Her Career and Future
by Alison Gilchrist, CSTPR Writing Intern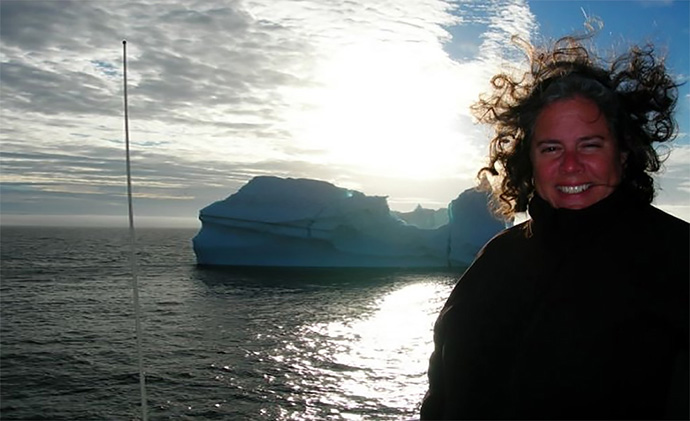 Elizabeth "Bets" McNie was part of the first ever graduate student cohort at the Center for Science and Technology Policy Research (CSTPR). She knows that CSTPR is a special place.
"Being part of the community here was the best part," says McNie. "I'm still really good friends with a lot of the students who were in my cohort. There's a sense that the people here 'get' the importance of the science-policy nexus, and that's one of the things that really appeals to me."
McNie has studied the connections between science and policy ever since. During her PhD, McNie studied how a program called The Regional Integrated Sciences and Assessment (RISA) produces usable data for decision makers. These studies showed her how difficult it can be to cross the stormy waters between scientists and policy-makers, but how important it is to cross those waters.
"CSTPR made me appreciate how complex the landscape is between science and policy, and how it needs to be navigated with intention," said McNie. "It's not simply about producing the information and plopping it on someone's desk in a glossy brochure. It's really about working intentionally with the intended users of the information to try and produce information that they can use and will use."
She says that "navigating with intention" requires that those two groups of people, the scientists and the users of the science, interact frequently and work to understand each other's capabilities and limitations.
McNie had navigating experience before joining her PhD cohort at CSTPR - but in a very different context. After graduating from the California State University Maritime Academy, she worked as a U.S. Merchant Marine Officer on containerships, oil tankers, and offshore oil-drilling rigs. She also worked as a training officer and lecturer at her alma mater.
"Teaching has been my passion," McNie says about her career so far, and it shows. Her explanation of how to navigate with sextants makes even a landlubber like me feel more confident about stepping onto a ship.
McNie left CSTPR with her PhD and worked at Purdue University before returning to Boulder to join Western Water Assessment, where she works currently. Western Water tries to produce usable climate information for users in the Rocky Mountain West. They aim to connect scientists to decision makers so that users of the data that the scientists produce can specify what kind of data is most helpful. There are times when the scientist can't produce the information that the decision makers want, so the scientists will propose what they can do instead.
"It's an iterative, back-and-forth dialogue between researchers and decision makers," says McNie. "I love the colleagues I get to work with at Western Water. They're passionate about creating climate information that people can work with."
Ever navigating with intention, however, McNie will be taking a tenure-track job at the California State University Maritime Academy. She'll be teaching in the department of Marine Transportation and will continue to do research on usable science, but in the maritime industry. Although this is a job she was elated to take, she's sad to leave CSTPR behind.
"This is a special place. I have a lot of fond memories here, and I've had the opportunity to work with really great people here."
She hopes to continue collaborating with people from CSTPR, and she will continue to spread the word that CSTPR is a community of like-minded people who really understand the science-policy nexus.