April 28th, 2006
Posted by: Roger Pielke, Jr.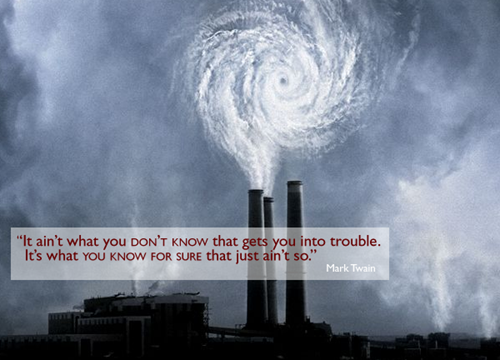 The image above is taken from the homepage of Al Gore's new movie. If the imagery is indicative of the role of science in its presentations of policy options, then the case for action on climate change is going to suffer a setback. Reducing smokestack emissions, or any CO2 emissions, is simply not an effective tool of hurricane disaster mitigation.
Often on these pages we have made the case that the debate that rages over hurricanes and climate change is largely irrelevant to climate policy, even as it used as a symbol in climate politics. The reason for the insensitivity of policy to this debate is the overwhelming influence of societal factors in driving trends in the growth in disaster losses even under assumptions that global warming has significant effects on hurricanes. We have made the case in a wide range of fora and in a wide range of ways, and yet, it seems that the urge to use hurricanes as a justification for climate-related energy policies is just too appealing, despite its grossly unsupportable scientific grounding. It does not matter whether or not scientists can establish a link between global warming and hurricanes – it won't affect how we think about climate policy.
More evidence for this perspective is provided in a recent news story about the insurance and reinsurance industries,