Income Redistribution and Energy Consumption
February 27th, 2009
Posted by: Roger Pielke, Jr.
[UPDATED]
The WSJ notes today of Obama's cap and trade revenue generation plan that it is also highly redistributive:
A fundamental question is how the government will distribute the billions of dollars in revenue generated through a emissions trading system. Lawmakers from states dependent on coal and heavy manufacturing are expected to demand that more money go toward their constituents, since they will experience higher costs associated with the transition to low-carbon energy sources.

Mr. Obama's aides say his plan would provide a refundable tax credit of up to $400 for working individuals and $800 for working families. The credits would phase out between $150,000 and $200,000 for a married couple, and between $75,000 and $100,000 for an individual.

"This is going to change the distribution of wealth potentially for a century," said Dallas Burtraw, an economist at Resources for the Future, a nonpartisan Washington think tank.
An astute Prometheus reader comments that such a redistribution could have the effect of increasing energy consumption:
It is not inconceivable in that case that the combination of relative "income" and "price" effects across the income spectrum in the US could lead to increased energy consumption. (just imagine what you might expect to happen if you took 5% of income from the top 10% of income and redistributed that among the lowest 10%. Energy consumption would almost certainly rise due to the income effect. If cross price elasticity for energy is low as you imply and I would agree, there would be little or no offsetting reduction from substitution.
Here is a quick graph of income versus energy use using 2001 EIA data (pdf), which is strongly suggestive that income redistribution will indeed lead to higher energy consumption.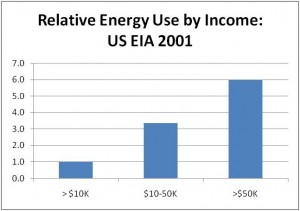 Surely there is some good academic literature on the relationship of income and energy consumption in the United States, please offer pointers in the comments.