Will environmentalists miss George Bush?
September 13th, 2008
Posted by: admin
No doubt, environmentalists are counting down the days until President Bush leaves office. However, is this parting bittersweet? Consider the following figure on the number of Americans that claim to belong to an environmental organization.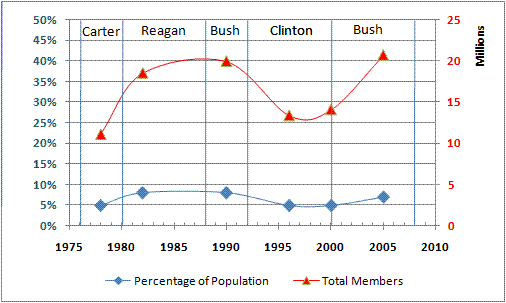 According to this dataset, the number of American's that belong to an environmental organization correlates with presidential party affiliation; claimed membership is approximately 50% greater during a Republican presidency.
I created the figure by harvesting polling data from six different polls between 1978 and 2005. All six polls roughly ask the same question: do you belong to an environmental organization? The blue points represent the percentage of respondents answering in the affirmative. The percentage is found on the left axis. I was curious how these percentages translated into actual numbers of American citizens. To do this, I multiplied the percentage of affirmative respondents by the US Census' estimate for each year, which is illustrated by the red points. The number of Americans is found on the right axis.
I am fully aware of the challenges of comparing the results of different surveys. This figure is a back of the envelope calculation to help triangulate relevant trends for my research. While the results are not definitive they certainly are suggestive.
For those interested, the exact polling questions are below:
1978: Do you belong to any national environment organizations such as the Sierra Club, Friends of the Earth, the National Audubon Society or others like these? (Survey by Resources for the Future)
1982: Do you belong to any of the following types of community organizations?…Environmental groups. (Survey by Continental Group)
1990: Please look carefully at the following list of voluntary organizations and activities and say which, if any, do you belong to?…Conservation, the environment, ecology (Gallup Organization)
1996: We would like to know something about the groups or organizations to which you currently belong. Here is a list of various kinds of organizations. For each type, please tell me whether you belong to any club or organization that fits into that category. Just call off the number of each type you belong to… environmental clubs or organizations (Post-Modernity Project at the University of Virginia)
2000: There are many different kinds of environmental organizations, including large national and international organizations like the Sierra Club and Greenpeace, as well as smaller, local organizations. Do you, yourself, belong to any large national or international environmental organizations? (Gallup organization)
2005: There are many different kinds of environmental organizations, including large national and international organizations like the Sierra Club and Greenpeace, as well as smaller, local organizations. Do you, yourself, belong to any large national or international environmental organizations? (Gallup organization)