A Question for the Media
December 14th, 2007
Posted by: Roger Pielke, Jr.
I've generally thought that the media has done a nice job on covering the climate issue over the past 20 years. There are of course leaders and laggards, but overall, I think that the community of journalists has done a nice job on a very tough issue. However, there are times when I am less impressed. Here is one example.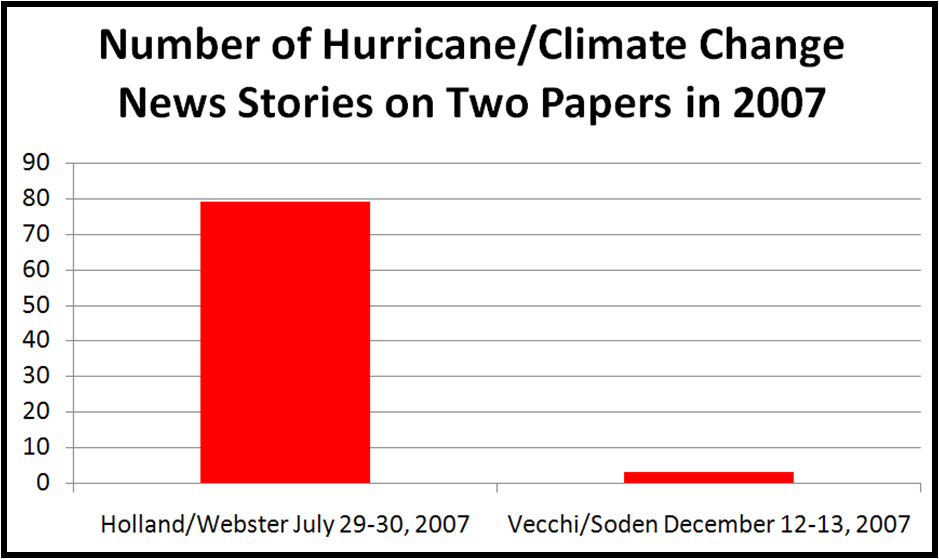 Nature magazine, arguably the leading scientific journal in the world, published a paper this week by two widely-respected scholars — Gabriel Vecchi and Brian Soden — suggesting that global warming may have a minimal effect on hurricanes. Over two days the media — as measured by Google News — published a grand total of 3 news stories on this paper. Now contrast this with a paper published in July in a fairly obscure journal by two other respected scholars — Peter Webster and Greg Holland — suggesting that global warming has a huge effect on hurricanes. That paper resulted in 79 news stories stories over two days.
What accounts for the 26 to 1 ratio in news stories?