Yohe vs. Lomborg
August 24th, 2008
Posted by: Roger Pielke, Jr.
There in an interesting debate over at the Guardian between Bjorn Lomborg and Gary Yohe, who is the lead author on the climate change analysis that is part of the Copenhagen Consensus exercise 2008. Yohe is also lead author for the IPCC 2007 assessment report on mitigation.
Yohe claims to have been grossly, and purposely, misrepresented by Lomborg (Lomborg's Guardian piece is here, Yohe's response is here):
Bjorn Lomborg, author of The Skeptical Environmentalist, makes headlines around the world by arguing that capping carbon dioxide emissions is a waste of resources. He recently published a piece in the Guardian in which he dismissed efforts to craft a global carbon cap as "constant outbidding by frantic campaigners" to "get the public to accept their civilisation-changing proposals".

To support his argument, Lomborg often cites the Copenhagen Consensus project, a 2008 effort intended to inform climate negotiators. But there's just one problem: as one of the authors of the Copenhagen Consensus Project's principal climate paper, I can say with certainty that Lomborg is misrepresenting our findings thanks to a highly selective memory.
What is the nature of the misrepresentation? Yohe states:
Lomborg claims that our "bottom line is that benefits from global warming right now outweigh the costs" and that "[g]lobal warming will continue to be a net benefit until about 2070." This is a deliberate distortion of our conclusions.

We did find that climate change will result in some benefits for developed countries, but only for modest climate change (up to global temperature increases of 2C – not the 4 degrees that Lomborg is discussing in his piece).
In the good guy-bad guy Manichean climate debate, making sense of such back-and-forths can be difficult, but here is my attempt. I will invite Lomborg, Yohe et al. to comment here on my interpretation.
First, lets take a look at Yohe et al. (here in PDF) and see what they actually said. On temperature change, Yohe et al. present this in their Figure 3.2, reproduced below.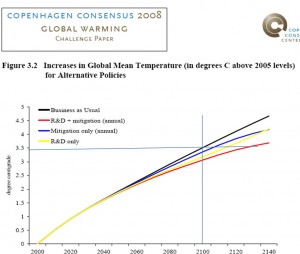 I've annotated it to show that the temperature change associated with business as usual is just under 3.5 degrees in 2100. So it is indeed less than the 4 degrees suggested by Lomborg, but far above the 2 degrees suggested by Yohe. Neither Lomborg or Yohe gets good marks for precision here, but maybe Yohe is looking at 2075 and Lomborg 2100 and they are talking past each other (??).
Now on the issue of benefits of climate change, Yohe et al. present this in their Figure 4.1, reproduced below.
This figure clearly shows that the analysis of Yohe et al. concludes that "[g]lobal warming will continue to be a net benefit until about 2070." The big red arrow that I've added shows where the impacts of global warming go from positive to negative, around 2070. Based on this graph, it is difficult for me to see the egregious misrepresentation that Yohe has claimed.
Perhaps what we are seeing here is a disagreement over values, not economic analyses. But in the climate debate, it is often a short journey from reasoned disagreement over analyses and their implications to allegations of willful misrepresentation and worse. A shame.