World Bank and UK Government on Climate Change Implications of Development
May 22nd, 2008
Posted by: Roger Pielke, Jr.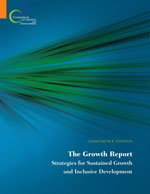 The World Bank and UK government issued a report today titled, "Strategies For Sustained Growth And Inclusive Development." Here is what the report says about the implications for climate change of development in the developing world (p. 86), something that the report calls absolutely necessary:
Clearly the advanced countries are at per capita [carbon dioxide] output levels that, if replicated by the developing world, would be dramatically in excess of safe levels. World carbon emissions are now at about twice the safe level, meaning that if the current output is sustained, the CO2 stock in the atmosphere will rise above safe levels in the next 40 years. The figures for a range of
countries, including developing countries, are shown in Figure 9.

If the developing countries did not grow, then safe levels of emissions would be achieved by reducing advanced country emissions by a factor of two or a little more. But with the growth of the developing countries, the incremental emissions are very large because of the size of the populations. To take the extreme case, if the whole world grew to advanced country incomes and converged on the German levels of emissions per capita, then to be safe from a warming standpoint, emissions per capita would need to decline by a factor of four. Reductions of this magnitude with existing technology are either not possible, or so costly as to be certain of slowing global and developing country growth.

What these calculations make clear is that technology is the key to accommodating developing country and global growth. We need to lower the costs of mitigation. Put differently, we need to build more economic value on top of a limited energy base. For that we need new knowledge.
What actions does the report call for (p. 90)?
The Commission recommends the following nine steps. Taken together, they will cut emissions, thereby staving off some of the worst dangers of global warming. They will reveal more about the cost of cutting emissions, and they will encourage new technologies that reduce these costs. These steps are also fair.

1. The advanced economies should cut emissions first and they should do so aggressively. This will slow the accumulation of carbon in the atmosphere. It will also reveal a great deal about how much it truly costs to cut carbon emissions.

2. More generous subsidies should be paid to energy-efficient technologies and carbon reduction technologies, which will reduce the cost of mitigation.

3. Advanced economies should strive to put a price on carbon.

4. The task of monitoring emissions cuts and other mitigation measures should be assigned to an international institution, which should begin work as soon as possible.

5. Developing countries, while resisting long-term target-setting, should offer to cut carbon at home if other countries are willing to pay for it. Such collaborations take place through the Clean Development Mechanism provisions in the Kyoto protocol. Rich countries can meet their Kyoto commitments by paying for carbon cuts in poorer countries.

6. Developing countries should promise to remove fuel subsidies, over a decent interval. These subsidies encourage pollution and weigh heavily on government budgets.

7. All countries should accept the dual criteria of efficiency and fairness in carbon mitigation. In particular, richer countries, at or near high-income levels, should accept that they will each have the same emissions entitlements per head as other countries.

8. Developing countries should educate their citizens about global warming. Awareness is already growing, bringing about changes in values and behavior.

9. International negotiations should concentrate on agreeing to carbon cuts for more advanced economies, to be achieved 10 or 15 years hence.
These mitigation efforts should be designed so as to reveal the true costs of mitigation.
Interestingly, the report calls for developing countries to "resist long-term target setting" while at the same time expressing skepticism about the "true costs of mitigation." The report shows that there is a wide range of views on what sort of mitigation actions make sense in the debate over climate policy that cannot be captured by the facile "denialist-alarmist" dichotomy that some observers would like to enforce on the debate. One oversight is that the report does not address the issue of adaptation.