LA Times on Adaptation
March 26th, 2008
Posted by: Roger Pielke, Jr.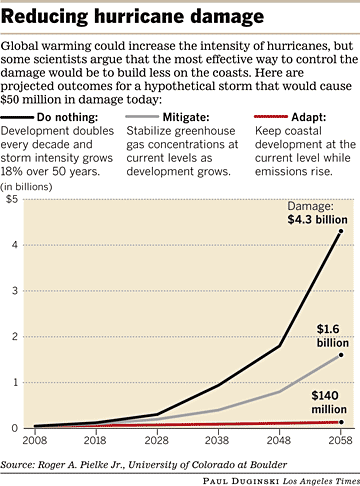 The image above is from a LA Times story by Alan Zarembo and is based on some of our reserach on future hurricane damages under changes in both climate and society. Zarembo provides a perspective on a group of scholars and advocates that I once called "nonskeptical heretics." Nonskeptical because they accept the science presented by the IPCC (as noted by Zarembo), and heretics because they take strong issue with many of the closely held assumptions that have come to frame the debate over climate policies.
Zarembo characterizes one of the most insidious assumptions — that support for adaptation necessarily means a loss of support for mitigation:
Other scientists say that time is running out to control carbon dioxide emissions and that the call to adapt is providing a potentially dangerous excuse to delay. . . Although most scientists agree that adaptation should play a major role in absorbing the effects of climate change, they say that buying into the heretics' arguments will dig the world into a deeper hole by putting off greenhouse gas reductions until it is too late.
Well, no. It is a strawman to argue that strong support for adaptation means that one cannot also provide strong support for mitigation. A problem arises for mitigation-first proponents when they invoke things like hurricanes, malaria, and drought as justification for mitigation when clearly adaptive responses will be far more effective. Those who persist in linking mitigation to reducing such climate impacts will always find themselves on the wrong side of what research has shown — namely, climate change is a much smaller factor in such impacts than societal factors (compare the graph above). It is true. Get over it.
The best arguments for mitigation were presented by Zarembo coming from Steve Schneider, who rightly pointed to the uncertain but highly consequential impacts of human-caused climate change:
"You can't adapt to melting the Greenland ice sheet," said Stephen H. Schneider, a climatologist at Stanford University. "You can't adapt to species that have gone extinct."
If advocacy for action on mitigation emphasized these very large scale long-term impacts, rather than disasters, disease, etc., then there would be no need for adaptation and mitigation to be presented as opposing approaches. Consider that none of the people quoted in the Zarembo story who I know (including me) have suggested that adaptation can replace mitigation, particularly for issues like sea level rise and specifies extinction. So the argument that adaptation can't deal with sea level rise over a century or more is somewhat of a strawman as well.
The reality is that whatever the world decides to do on mitigation, we will have no choice but to improve our adaptation to climate. Humans have been improving their adaptation to climate forever and will continue to do so. Since we are going to adapt, we should do it wisely. And this means rejecting bad policy arguments when offered in the way of substitutes for adaptation, like the tired old view that today's disaster losses are somehow a justification for changes to energy policies. Misleading policy arguments and should be pointed out as such, because they hurt both the cause of adaptation, but ironically the cause of mitigation as well.
If mitigation advocates do not like being told that their misleading arguments poorly serve policy debate, well, they should probably try to come up with a more robust set of arguments. Arguing that support for adaptation undercuts support for mitigation is a little like making the argument that support for eating healthy and getting exercise (adapting one's lifestyle) undercuts support for heart surgery research (mitigating the effects of heart disease). Obviously we should seek both adaptation and mitigation in the context of heart disease.
If the case for action on energy policy is so overwhelmingly strong (and again, I think that it is), then there should be no reason to resort to misleading arguments completely detached from the conclusions of a wide range of analyses. Misleading arguments may be politically expedient in the short term, but cannot help the mitigation cause in the long run. And dealing with the emissions of greenhouse gases will take place over the long run. Meantime, we'll adapt.