Has Global Warming "Stopped"?
December 31st, 2008
Posted by: Roger Pielke, Jr.
Well, it all depends on what "stopped" means.
I've been asked to comment on the silly debate over whether or not global warming has "stopped." Like so much in the climate debate, the answer to this question depends upon what you want it to be, your political views, and what is meant by the word "stop." So here are two incompatible perspectives.
1. Global Warming Has Stopped!
Evaluating this claim, linked above to the website of Senator James Inhofe (R-OK), requires some care with the English language. Specifically, we must take care with the definition of "stop." The claim that global warming has stopped is false if "stop" means, as the first entry of the online OED defines it, "to come or bring to an end" because this definition carries with it some implications about the future. If global warming has indeed stopped (under this definition), then it would call into question all of those campaigns to "stop global warming," as explained by Mark Lynas:
Why bother [supporting urgent action to reduce carbon emissions] if global warming has 'stopped', and therefore might have little or nothing to do with greenhouse gas emissions, which are clearly rising?
But have any leading scientific organizations or assessment groups suggested that global warming will not continue? No. To the contrary, scientific organizations have gone to some lengths to explain that recent global temperatures do absolutely nothing to alter the existing scientific consensus.
2. "Global Warming Has Not Stopped"
For instance, the UK Met Office explains that "Anyone who thinks global warming has stopped has their head in the sand" (PDF). Once again, we need to pay careful attention to language. If "stop" is defined according to the third entry of the online OED, then it means "to cease or cause to cease moving" with no connotation about the future. Under this definition, it is obvious that global temperatures have not increased over the past 8, 11 or 18 years (depending on your dataset and definition of increase, see below;-). But clearly, the increase has ceased for some period of time. The significance of this cessation is of course a separate issue from the fact that there has been a pause.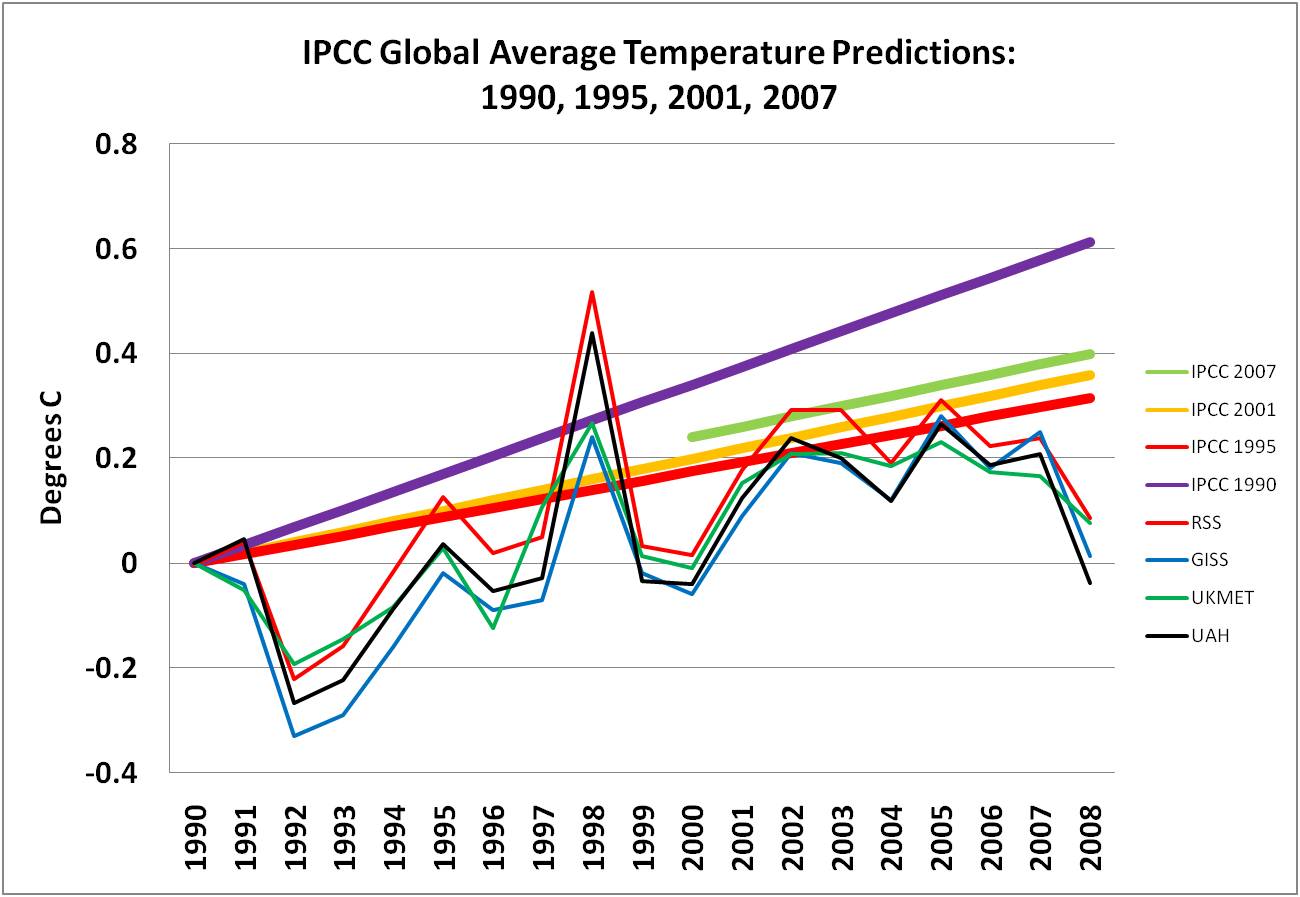 The UK Met Office even acknowledges this when they write:
. . . due to natural variations in climate, we expect to see ten-year periods both globally and regionally with little or no warming and other ten-year periods with very rapid warming.
So according to this explanation of what it means to "stop", global warming can indeed "stop" for periods of ten years. Since global temperatures in 2008 are not so different than 1995, or for some datasets, 1990, the far more important question than "has global warming stopped or not?" is "When will global warming resume?"
This will bring us to the profound question of what it means to "resume". Fortunately, instead of such word games Lucia Liljegren is tracking observed temperatures versus predictions, which turns out to be a much more interesting and productive question.