Optimal Adaptation?
November 20th, 2007
Posted by: Roger Pielke, Jr.
Thomas Henry Huxley once described science as "organized common sense where many a beautiful theory was killed by an ugly fact." The same can be said of economics.
In a unpublished letter to Nature posted as a comment on the Nature Climate Feedback blog Australian economist John Quiggin responds to the recent Prins/Rayner piece in Nature. He explains how economics theory indicates that we really have no reason to worry about adaptation to climate change, because economics theory says so:
Prins and Rayner also assume that because adaptation is as important as mitigation, it should receive equal attention as a focus of public policy. But emissions of greenhouse gases represent a market failure. No individual or nation has a strong incentive to reduce their own emissions. Hence, mitigation requires a global policy response so that this externality is taken into account. By contrast, private parties, in deciding how to adapt to climate change, will, in the absence of policy intervention, bear the costs and receive the benefits of their decisions in most cases. There is no reason to expect too little adaptation.
I suppose one could argue that this thesis is supported by the obvious fact that the world today does indeed have an optimal level of climate adaptation.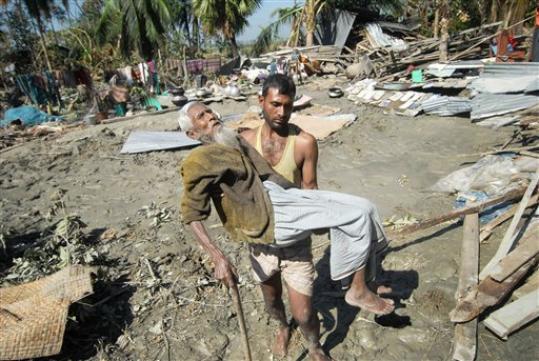 But then again, one might also take a look at Bangladesh and the effects of Cyclone Sidr over the past week to see that such an argument is not only wrong but wrongheaded, and perhaps even morally bereft. The two "private parties" in the photo to the left (courtesy of The Boston Herald) are obviously practicing "optimal adaptation" in the "absence of policy intervention."
Yeah, right.