Overselling Disasters and Climate Change by Munich Re
December 30th, 2008
Posted by: Roger Pielke, Jr.
Munich Re, one of the largest global reinsurance companies, has often skirted near the line of scientific credibility when discussing disaster losses and climate change. This week Munich Re stepped way over that line when it uses the issue of human-caused climate change to suggest higher reinsurance rates and support for a global climate treaty.
In a press release Munich Re observes of 2008:
Catastrophe figures for 2008 confirm that climate agreement is urgently needed
What else might be needed? How about higher reinsurance rates, which Munich Re hints at not so subtly:
Torsten Jeworrek, member of Munich Re's Board of Management: "2008 has again shown how important it is for us to analyse risks like climate change in all their facets and to manage the business accordingly,"
What evidence is there that indicates that confirm the need for a climate agreement?
First, Munich Re points to the large loss of life from disasters in 2008:
Throughout the world, more than 220,000 people died as a result of natural catastrophes this year.
Tragic, to be sure, but caused by climate change? A third of these deaths resulted from the Sichuan Earthquake. A large number of deaths, perhaps 135,000, resulted from Typhoon Nargis in Myanmar. What does 2008 look like in long-term context?
Here is data the Centre for Research on the Epidemiology of Disasters (CRED) at the Université Catholique de Louvain presents data for disaster deaths from 1900- June, 2008.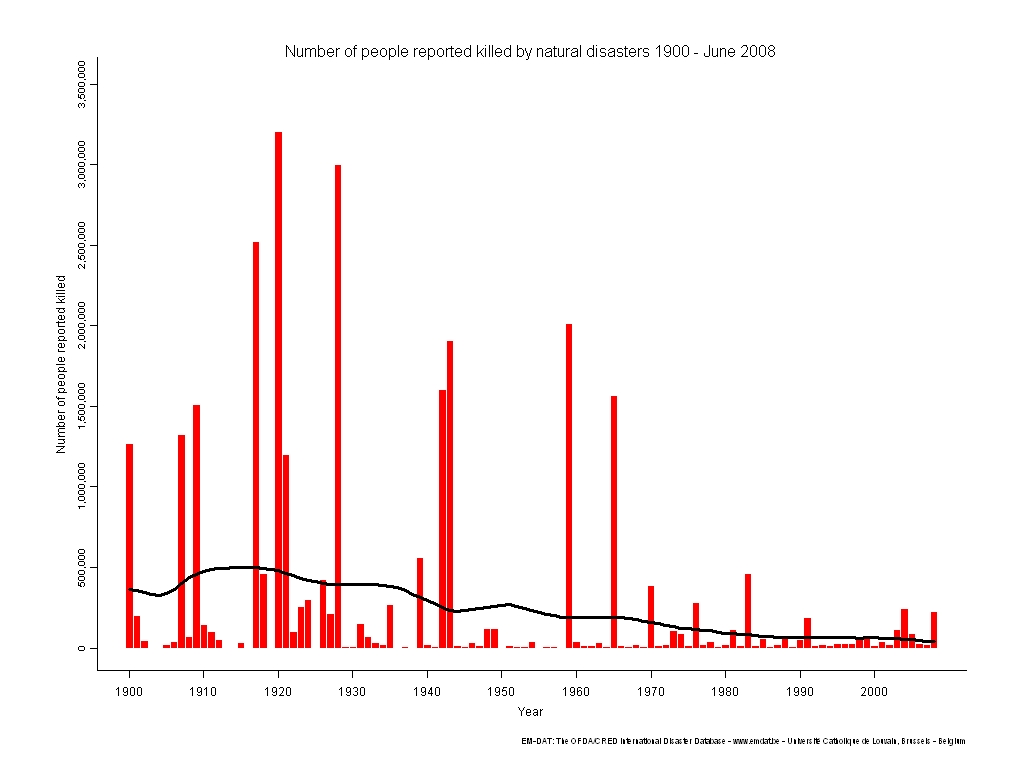 Over the long term the loss of lives from disasters has gone down remarkably. How about since 1975?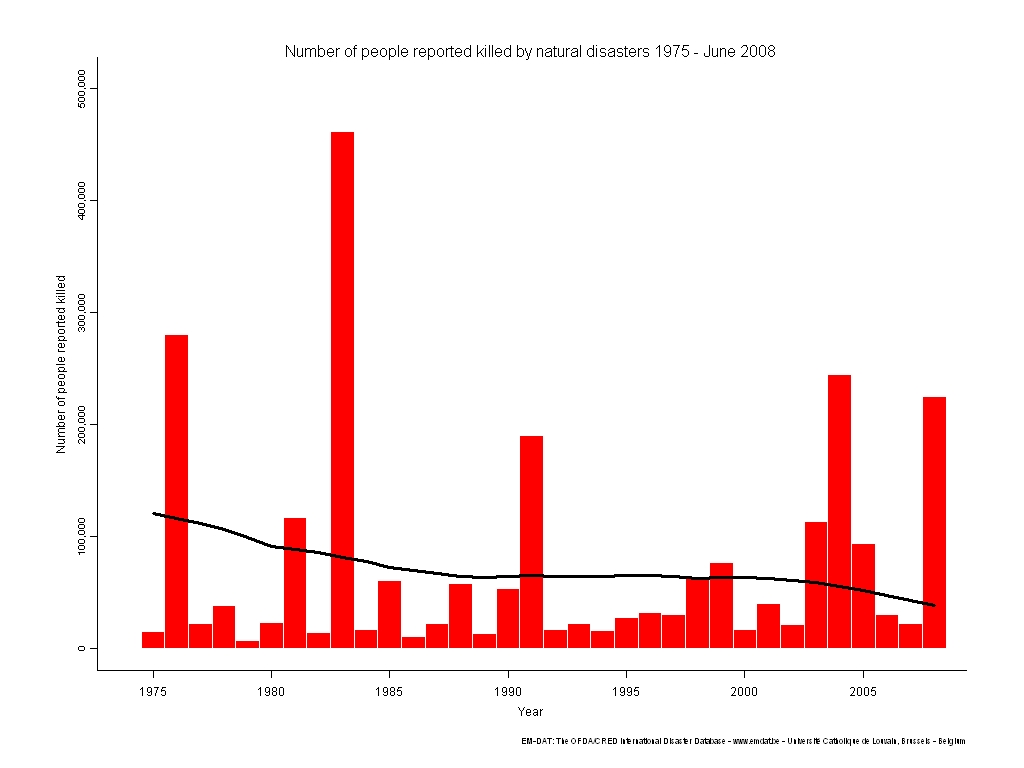 Even as populations continue to grow, there has been no upward trend in the loss of life, despite the tragic reality of major disasters around the world every year. Extracting a climate change signal in that data is just not possible. For a more comprehensive look at trends in losses, see this recent report by Indur Goklany (here in PDF).
What about economic losses?
Economic losses from disasters have been increasing dramatically in recent decades. Could this be due to climate change? Munich Re thinks so — in its press release Munich Re states:
Torsten Jeworrek, member of Munich Re's Board of Management: "This continues the long-term trend we have been observing. Climate change has already started and is very probably contributing to increasingly frequent weather extremes and ensuing natural catastrophes. These, in turn, generate greater and greater losses because the concentration of values in exposed areas, like regions on the coast, is also increasing further throughout the world."
These remarks directly contradict the conclusions of a 2006 workshop that Munich Re co-sponsored, and I co-organized with Peter Hoeppe, of Munich Re. From that workshop we published a paper in Science that concluded the following (PDF):
According to data collected by Munich Re, global weather-related economic losses (inflation adjusted, 2006 dollars) have increased from an annual average of U.S.$8.9 billion from 1977–1986 to U.S.$45.1 billion from 1997–2006. However, because of issues related to data quality, the low frequency of extreme event impacts, limited length of the time series, and various societal factors present in the disaster loss record, it is still not possible to determine the portion of the increase in damages that might be attributed to climate change brought about by greenhouse gas emissions (S1). This conclusion is likely to remain unchanged in the near future.
So Munich Re scientists (Hoeppe and E. Faust) publish in Science that attribution of losses to greenhouse gas emissions is not presently possible, and a Munich Re board member says that such attribution is "very probably" leading to more extreme events. Could this be confusion between the research and operations sides of the business? Unlikely. Peter Hoeppe adds to the mixed message when he explains in the press release:
It is now very probable that the progressive warming of the atmosphere is due to the greenhouse gases emitted by human activity. The logic is clear: when temperatures increase, there is more evaporation and the atmosphere has a greater capacity to absorb water vapour, with the result that its energy content is higher. The weather machine runs in top gear, bringing more intense severe weather events with corresponding effects in terms of losses. This relationship is already visible today in the increasing heavy precipitation events in many regions of the earth, the heat waves, and the hurricanes in the North Atlantic. The loss statistics for 2008 fit the pattern that the calculations of climate models lead us to expect.
Hoeppe is now on record in a leading scientific publication saying that the loss data does not allow for conclusive attribution but contradicts himself in a business setting by says that the "weather machine" is increasing losses. In the context of hurricanes, the science clearly does not allow such attribution. He also suggests that climate models result in "calculations" that help to explain "loss patterns." I'd be very interested in any explnation of what this might mean. I don't think it means anything at all, but it sure sounds impressive.
Once again, below is a time series of normalized losses for U.S. hurricanes for 1900-2005 (see Pielke et al. 2008, in PDF). Both 2006 and 2007 had almost zero losses, and 2008 had about $30-40 billion (depending on source). See a trend?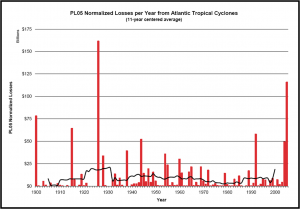 The fact is that 2008 disaster losses tell us nothing about human-caused climate change. They offer no pressing reason for passing a climate treaty, since such a treaty can have no real effect on the climate for decades anyway. And even if it did the main reason for increasing losses is social not climatic. There are far better reasons for a global climate treaty than reducing disaster losses, since there are far better approaches to that end (as we argue in our Science paper). Further, there may be good reason for Munich Re to want to increase its rates, but making grossly unsound appeals to the spectre of greenhouse gas impacts on disasters in the near term will both harm its own credibility as a business, and potenially harm efforts to secure a global climate treaty, as overselling the science will inevitably result in a backlash.