Normalized U.S. Earthquake Losses: 1900-2005
June 18th, 2008
Posted by: Roger Pielke, Jr.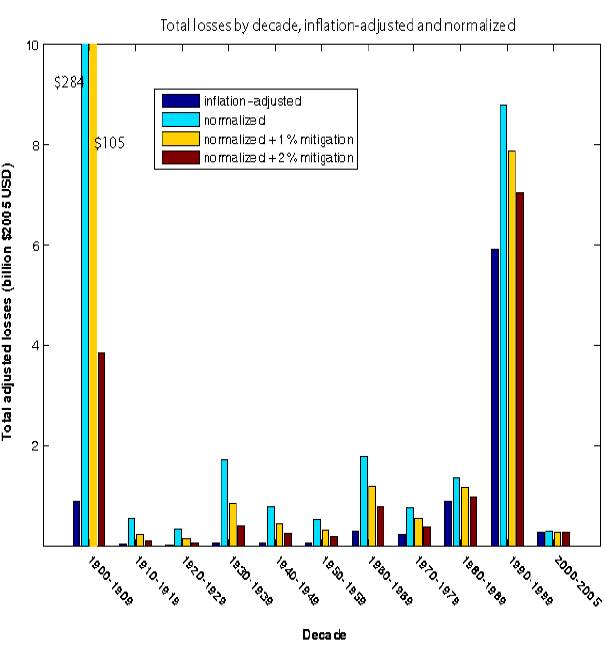 Kevin Vranes and I have just had a paper accepted for publication on historical earthquake losses in the United States.
Vranes, K., and R. A. Pielke, Jr., 2008 (in press). Normalized earthquake damage and fatalities in the United States: 1900 – 2005, Natural Hazards Review. (PDF)
The dataset that we present in the paper will allow for a range of interesting analyses. Here is the abstract:
Damage estimates from 80 United States earthquakes since 1900 are "normalized" to 2005 dollars by adjusting for inflation, increases in wealth and changes in population. A factors accounting for mitigation at 1% and 2% loss reduction per year are also considered. The earthquake damage record is incomplete, perhaps by up to 25% of total events that cause damage, but all of the most damaging
events are accounted for. For events with damage estimates, cumulative normalized losses since 1900 total $453 billion, or $235 billion and $143 billion when 1% and 2% mitigation is factored respectively. The 1906 San Francisco earthquake and fire adjusts to $39 – $328 billion depending on assumptions and mitigation factors used, likely the most costly natural disaster in U.S. history in normalized 2005 values. Since 1900, 13 events would have caused $1B or more in losses had they
occurred in 2005; five events adjust to more than $10 billion in damages. Annual average losses range from $1.3 billion to $5.7 billion with an average across datasets and calculation methods of $2.5 billion, below catastrophe model estimates and estimates of average annual losses from hurricanes. Fatalities are adjusted for population increase and mitigation, with five events causing over 100 fatalities when mitigation is not considered, four (three) events when 1% (2%) mitigation is considered. Fatalities in the 1906 San Francisco event adjusts from 3,000 to over 24,000, or 8,900 (3,300) if 1% (2%) mitigation is considered. Implications for comparisons of normalized results with catastrophe model output and with normalized damage profiles of other hazards are considered.