Recent Publications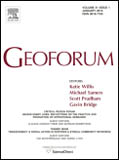 The following represents a sample of the numerous publications authored by Center staff.  For a complete, searchable list, with online versions of most articles, visit our Publications page.
A paper published by Max Boykoff and his brother Jules was selected for Geoforum's 40th anniversary special issue. The paper Climate change and journalistic norms: A case-study of US mass-media coverage is also listed as the fifth most downloaded paper in the journal.
---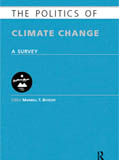 Max Boykoff's new book The Politics of Climate Change: A Survey (Routledge Press) was just released.  About the book: Climate change is a defining issue in contemporary life. Since the Industrial Revolution, heavy reliance on carbon-based sources for energy in industry and society has contributed to substantial changes in the climate, indicated by increases in temperature and sea level rise. This particular period of time has been referred to as the 'Anthropocene Era', or the 'Age of the Hydrocarbon Human'. Read more.
---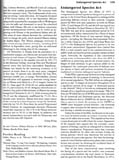 CSTPR graduate student Dave Cherney wrote a section on the Endangered Species Act in the book "Culture Wars: An Encyclopedia of Issues, Voices, and Viewpoints".  Cherney, D.N., 2009. Endangered Species Act. In: R. Chapman (ed.), The Encyclopedia of Culture Wars, Volume 1, M.E. Sharp: New York, pp. 159-160.
---
Ben Hale's article, Is justice good for your sleep? (And therefore, good for your health?) was published in Social Theory & Health.
Abstract: In this paper, we present an argument strengthening the view of Norman Daniels, Bruce Kennedy and Ichiro Kawachi that justice is good for one's health. We argue that the pathways through which social factors produce inequalities in sleep more strongly imply a unidirectional and non-voluntary causality than with most other public health issues. Specifically, we argue against the 'voluntarism objection' – an objection that suggests that adverse public health outcomes can be traced back to the free and voluntary choices of individual actors. Our argument proceeds along two lines: an empirical line and a conceptual line. We first show that much of the empirical research on sleep supports the view that those with fewer opportunities are those who have poorer sleep habits. We then argue that sleep-related decisions are not of the same nature as most other lifestyle choices, and therefore are not as easily susceptible to the voluntarism objection. Read more.
---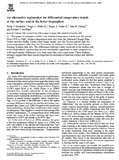 Roger Pielke, along with coauthors Philip J. Klotzbach, Roger A. Pielke Sr., John R. Christy, and Richard T. McNider, have a new paper published in the Journal of Geophysical Research titled An alternative explanation for differential temperature trends at the surface and in the lower troposphere. This paper investigates surface and satellite temperature trends over the period 1979 to 2008. Surface temperature data sets from the National Climate Data Center and the Hadley Center show larger trends over the 30-year period than the lower-tropospheric data from the University of Alabama in Huntsville and Remote Sensing Systems data sets. The differences between trends observed in the surface and lower-tropospheric satellite data sets are statistically significant in most comparisons, with much greater differences over land areas than over ocean areas. These findings strongly suggest that there remain important inconsistencies between surface and satellite records. Read more.
---
Roger Pielke's article Does Geo-engineering Meet Criteria for a Successful Technological Fix? is part of a five person debate in Seed Magazine on engineering the climate, how it would be governed, and the ways we're doing it already.
---
Roger Pielke's article Improving the contribution of experts in policy and politics was published for PSCA International Ltd., and featured in http://www.publicservice.co.uk/. This article on the key challenges at the interface of advice and decision making can be read online.
---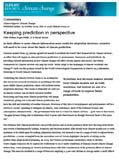 Roger Pielke co-authored an article with Mike Hulme and Suraje Dessai titled Keeping prediction in perspective in Nature Reports Climate Change.
Excerpt: Decision-makers from 155 nations agreed last month to establish the world's first framework for 'climate services', an effort that will supply on-demand climate predictions to governments, businesses and individuals. By providing tailored information on how climate change will affect certain regions and sectors, the Global Framework for Climate Services will help the world "better adapt to the challenges of climate variability and change". Such was the promise issued by the World Meteorological Organization in Geneva on 4 September, following its World Climate Conference. Read more
---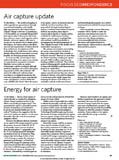 Roger Pielke had a letter to the editor published in December's issue of Nature Geoscience:  Pielke, Jr., R. A., 2009. Air capture update, Nature Geoscience, Vol. 2, December, p. 811.
---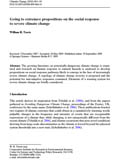 Bill Travis has a new article in Climate Change:  Travis, W., 2010. Going to Extremes: Propositions on the Social Response to Severe Climate Change. Climatic Change, Volume 98, Numbers 1-2, January.
Abstract: The growing literature on potentially dangerous climate change is examined and research on human response to natural hazards is analyzed to develop propositions on social response pathways likely to emerge in the face of increasingly severe climate change. A typology of climate change severity is proposed and the potential for mal-adaptive responses examined. Elements of a warning system for severe climate change are briefly considered. Read more.