Research Highlight

Fire And Flood: Understanding How People, Governments, And Specific Communities Respond To Extreme Events
by Deserai Anderson Crow
This issue of Ogmius features a Research Highlight describing two new projects led by CSTPR's Deserai Anderson Crow that will attempt to answer some of the policy questions raised by recent extreme events in Colorado. Deserai is an Assistant Professor in the Environmental Studies program at the University of Colorado Boulder, Associate Director of the Center for Environmental Journalism and a faculty member of the Center for Science & Technology Policy Research. Deserai joined the faculty of the School of Journalism and Mass Communication in 2008 and moved to the Environmental Studies Program in 2012. She earned her Ph.D. from Duke University's Nicholas School of the Environment and Earth Sciences and a Masters of Public Administration from the University of Colorado at Denver's School of Public Affairs. After earning her B.S. in Journalism from the University of Colorado at Boulder, she worked as a broadcast reporter, anchor, and producer in Nebraska, West Virginia, California, Colorado Springs, and Denver.

Her research interests include environmental policy and the role that mass media and other factors play in policy decisions. She is particularly interested in environmental issues in the western United States. Her current research includes studies on environmental reporting trends, communication in environmental policymaking, and stakeholder use of environmental messaging strategies. Her previous research focuses on the adoption of non-consumptive recreational water rights by Colorado communities and the factors that influenced policy change within these communities, including mass media, policy entrepreneurs, stakeholder group involvement, and citizen engagement.

A neighborhood watches the Boulder wildfires on Jan. 7, 2009. Photo: Jim Rettew.
Natural disasters get a lot more attention than many environmental policy decision contexts. In the West it's often wildfires that draw attention, but this fall along Colorado's Front Range we also experienced extreme flooding. These cases provide ample learning opportunities for researchers interested in understanding how people, governments, and specific communities respond to extreme events, both from a personal behavior standpoint as well as a broader policy response perspective.
In 2012, I began a project with a group of graduate students from Environmental Studies and Geography that analyzes homeowner understanding of their wildfire risk, but more importantly what they decide to do in response to that information. Using a series of case studies of catastrophic wildfires in the Wildland Urban Interface zone, we hope to determine how much information homeowners have, how they get that information, and then what mitigation efforts they undertake as a result. Using data from interviews with fire managers, focus groups with homeowners, management plan analysis, and media analysis, this research investigates the connections between information, values, local management regimes, and homeowner decisions regarding property mitigation in the face of wildfire risk. These findings will provide insight into how fire managers can create policies that promote homeowner mitigation efforts in high risk zones.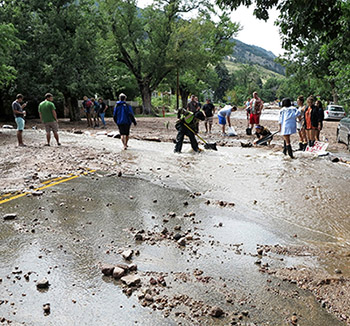 This fall, after watching our own communities inundated with floodwaters, Elizabeth Albright (Duke University) and I developed a research project that has been funded by the Natural Hazards Center at CU. Understanding the factors that encourage policy learning and adaptation in local policy contexts may prove critical, since this can mean the difference between ongoing flood vulnerability as a consequence of extreme weather events rather than long-term resilience. Determining the factors that increase the likelihood of policy change that may result in more adaptive local flood management will produce policy-relevant knowledge that may encourage long-term local-level adaptability and resilience to extreme climatic events. Our study investigates these issues in a cross-case investigation of communities affected by the September 2013 floods in Colorado, and the community-level decisions made in response to those floods. Using seven case communities located in the three hardest-hit counties in Colorado, the case studies draw on data from interviews, document analysis, public meetings, and media coverage to understand the processes through which communities are attempting to respond to the 2013 floods.
Photo above: Cleanup in Boulder, Colorado after the 2013 flood. Credit: Bruce Raup/CIRES.
Our goal for both of these projects is to understand critically important policy processes and decisions in the context of natural disasters, which is important to scholarship. We also hope that both projects will contribute to the knowledge base for local and county governments that are faced with difficult and critical decisions to protect their communities in the moments during and after a disaster, but that also may at times decide to create adaptive policies to encourage more long-term resilience within their communities. It is these instances that we hope can provide lessons for decision makers and community managers.
Deserai Anderson Crow
deserai.crow@colorado.edu