April 19th, 2006
Posted by: Roger Pielke, Jr.
Scholars who study the role of science in society have long dismissed the so-called "linear model" of science as descriptively inaccurate and normatively undesirable. In fact, within this community, such discussions are often viewed as pretty old stuff. However, when it comes to practicing scientists and many policy makers, the knowledge of the science studies crowd seems pretty far removed.
The linear model holds that investments in basic research are necessary and sufficient to stimulate scientific advancements, motivate technology developments, and bring products and serves to the market, where society benefits. The linear model was championed in Vannevar Bush's post-war science policy manifesto titled "Science: the Endless Frontier" and has been fundamental to modern science policy ever since. Here is a graphic I made up illustrating the linear model.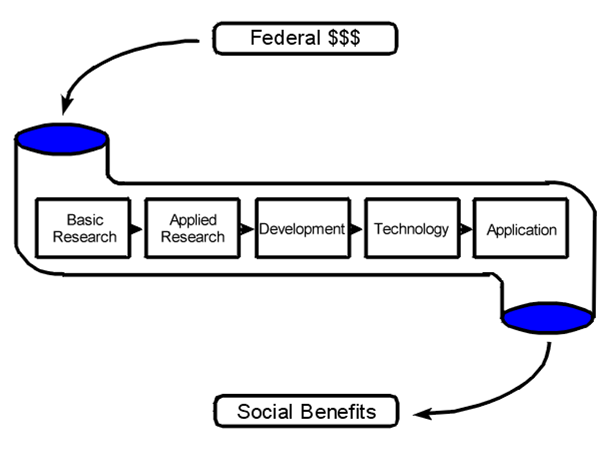 I am reminded almost daily at the depths to which the linear model shapes science policy, science advocacy, and science politics. Yesterday I came across an op-ed which used the linear model to argue for increased funding, at an exponential rate it seems, for health research, based on the linear model. Here is an excerpt: